'Project Runway' 12 Recap: Project Runway SuperFan!
There are three things that strike fear into the hearts of "Project Runway" designers: Heidi's button bag of doom, group challenges and designing for normal women with normal bodies. And the latter is exactly what they had to do for the L'Oreal Paris challenge, which featured eight of the show's superfans getting total style makeovers.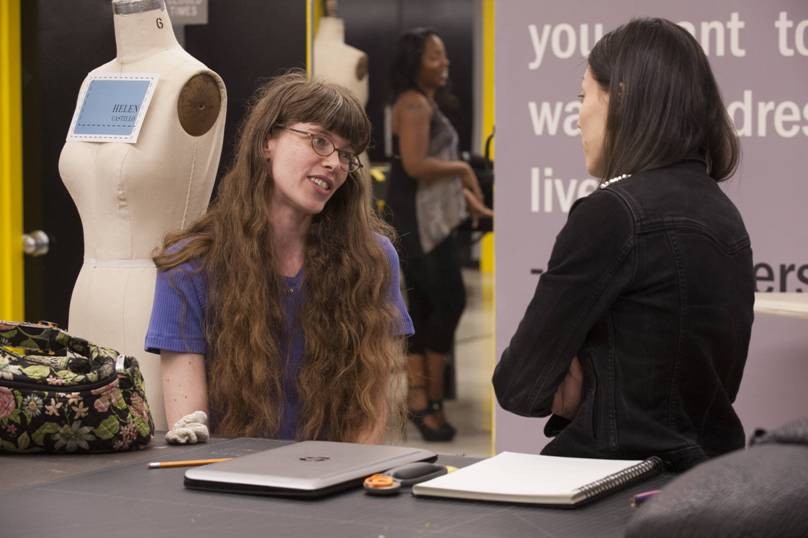 Designer Helen Castillo (right) talks with superfan Jamie about her impending makeover.
The designers were all excited to work with "real people," except Ken, because he couldn't go a week without complaining about something. To his credit though, once he met his client, the bubbly and sweet Susie, he got on board and seemed determined to make her happy. And to everyone's credit, none of the designers pulled a Ven.  

The superfans' excitement was so cute to watch, especially when they got to go to Mood to help pick out their fabrics. I give them all credit for not just letting their designers handle the shopping while they rolled around on the floor with Swatch. That's exactly what I would have done.

In these types of challenges, chemistry between the designer and client is key for creating a winning look. So it was pretty easy to see who was going to do well early on. There was definitely a disconnect between Alexandria and her client, 20-year-old art student Stephanie; it almost felt like Alexandria was mothering the girl and trying to reign in her style. And while Ken and Susie got along famously, he was not happy about the green fabric she chose, and therefore didn't seem fully committed to his design. Meanwhile, Helen quickly bonded with mousy-on-the-outside/sassy-on-the-inside Jamie, and Bradon decided to bust his budget on this challenge, as he thought his superfan, Jennifer, deserved his best efforts.

Despite all of the love flying around the workroom, Day 1 ended with a fur-flying fight between Alexander and — who else — Ken. Since their roommate Jeremy was eliminated last week, Alexander and Bradon were directed to move into Ken and Justin's room. But when they showed up with their suitcases, Ken was blocking the doorway with his ironing board. The guys just wanted to get in the room and go to bed, but Ken refused to move for them and said they'd have to wait until he was done. Finally fed up, Alexander showed Ken that he can "throw drama too, honey" by barrelling in and knocking the ironing board and iron over. Now, sure, Alexander did not handle the situation all that well, but it's understandable that he would snap after several weeks of dealing with Ken's act. And after losing his beloved ironing board, the diva took to the stage again to make an ultra-dramatic scene, screaming at anyone within earshot that HE'S NOT CHANGING HIS LIVING ARRANGEMENTS FOR NOBODY. And he ain't getting rid of his double negatives no how!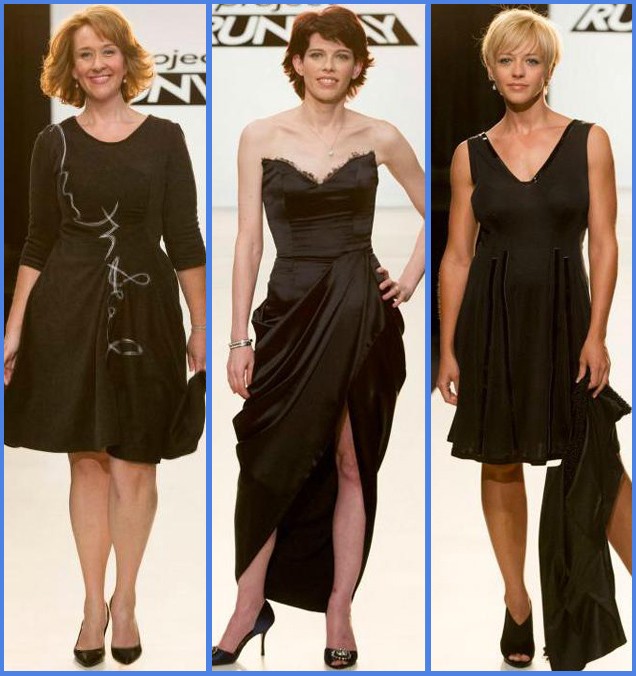 The Top 3 designs from (L-R): Justin, Helen and Bradon
Tim Gunn was forced to start off Day 2 by pulling the whole class into the designers' lounge and reprimanding the bad kids for not playing nicely. Tim suggested that, although Alexander's behavior was unacceptable, a larger problem was looming: Ken might have some anger issues. (YA THINK?) The resolution to the situation was to separate Ken from Justin, Bradon and Alexander. So Ken basically was rewarded for his bad behavior with his own private room. Hmm. Maybe Tim should've called Supernanny to properly handle that one.

Eventually, everyone got back to work, and as Day 2 neared its end, it appeared that Alexander was in the greatest danger of going home. His plan to create a suit for his client, Andrea, wasn't going smoothly, as he probably would have needed double the time to really make it work. But at least he didn't send Andrea down the runway naked.

At the fashion show, Zanna Roberts Rassi sat in for Nina Garcia, and designer Erin Fetherston acted as guest judge. It was really adorable to watch the superfans strut on the catwalk, and I'm sure I wasn't the only one who let out a big old "awwwwww" at the sight of Bradon's client, Jennifer, crying tears of joy and excitement backstage.

Once Dom and Kate were sent to safety, it was a no-brainer whose looks scored the highest: Justin, Bradon and Helen. The judges loved how Justin personalized the tea-length black dress for his conservative but fun client, Tristen. They also loved Bradon's black dress/vest combo, with Zanna noting that his look nailed exactly the image that Jennifer wanted to portray. But it was Helen's navy blue strapless "Oscar red carpet dress" that took top honors, a look that perfectly showcased Jamie's remarkable transformation.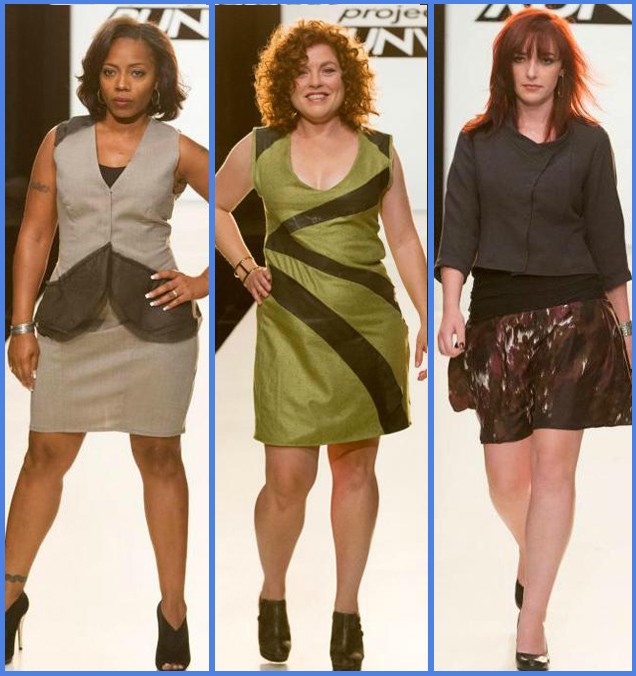 The Bottom 3 designs from (L-R): Alexander, Ken and Alexandria
Alexandria, Alexander and Ken landed in the Bottom 3 for designs that were dated, unfinished, and unflattering, respectively. And even though superfan Susie rocked the runway with the dress Ken made her, the panel finally decided that he'd made one too many appearances in the Bottom 3 to justify keeping him around. So, ding dong, the diva's dead! It's just too bad they didn't auf him last week because I bet that Jeremy would've done great in this challenge...and no innocent ironing boards would have been injured.  
 
Auf wiedersehen — see you next week!