'Project Runway' 12 Recap: Million Dollar Runway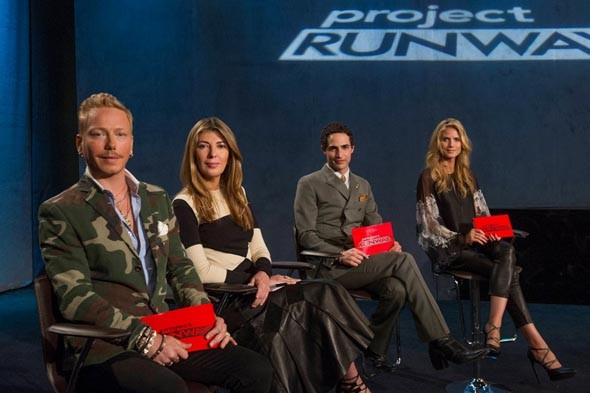 The second episode of "Project Runway" Season 12 began with an armored truck pulling up outside Parsons. Armed guards made their way to the runway, but none of the designers looked scared until Heidi Klum showed up with the button bag of doom.
Much to everyone's relief, however, this wasn't a team challenge—the bag was only to help the designers all pick new models. And the armed guards weren't there to arrest anyone for crimes against fashion—they were just there watching over the $30M+ worth of precious gems being worn by the models. Heidi explained that this week's challenge was to create a red carpet look worthy of being paired with such fabulous jewelry. Immediately, Timothy was upset because he found this whole thing SO SUPERFICIAL. Uh, isn't fashion all about superficiality? This guy needs to go chain himself to a tree or join Greenpeace or something. At the very least, he needs to go see a career counselor, because the boy is confused.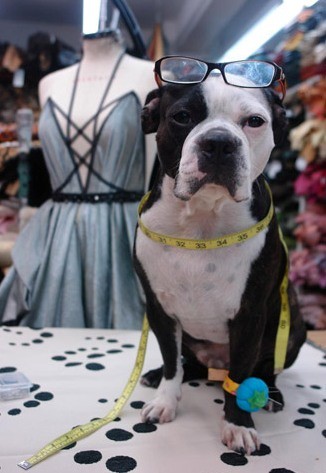 Tim Gunn took the group on their first trip to Mood and reminded them that they all had $4000 that had to last them the whole season. Though the designers could spend whatever they wanted, the recommended budget for this challenge was $300, and everyone did a good job of following that suggestion. Of course, Timothy probably only spent $30 because he just rummaged through the trash and remnant bins, despite Tim's reminder that Mood carried organic fabrics. But who cares about Timothy when Swatch is around! The sweet little pup was just lying there grunting. Clearly, he's gotten tired of these crazy designers running all over his store.

Back in the workroom, Sandro and Ken were arguing about something...who knows what. Justin just turned his hearing aid off and kept on truckin', while everyone else had no choice but to hear the whole mess.

Tim stopped by for his usual rounds and had a few constructive notes for everyone. He worried that Dom's silk print dress was in danger of being a little too "Palm Springs poolside," but she stuck to her design guns. Meanwhile, Timothy decided to make some changes to his weird dress after Tim warned that it could be "a ticket home." (Loved Ken's comment: "the look on Tim's face is completely hilarious." Yes, it was.) The Gunnster was concerned that Helen's design was too ambitious, but she kept insisting that evening wear was her forte. Also seeming at home in evening wear was comeback kid Kate, whose corseted taffeta gown delighted Tim, even if Alexander thought it was a Vivienne Westwood knock-off. But Alexander had his own garment to worry about, as Tim noted that it was looking a little "granny."
In the final hours, some designers' stress levels boiled over. Sue went nuts after Dom changed the thread in her machine...mainly because she didn't know how to change it back. Even as Dom tried to help her, Sue continued her freak-out. Then Sandro exploded when he couldn't find and/or figure out how to work a steamer. Sheesh. As a wise man once said: "Lighten up, it's just fashion." And as I'm about to say right now: If you don't know how to operate a sewing machine and/or a steamer, you're probably in the wrong business. Go make an appointment with Timothy's career counselor.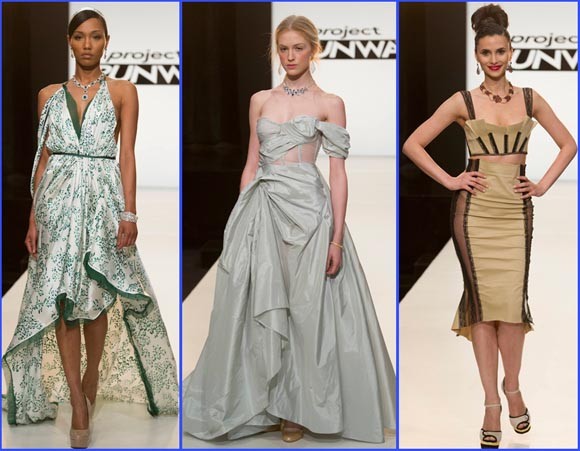 The Top 3 designs from (L-R): Dom Streeter, Kate Pancoke and Sandro Masmanidi
At the runway show, costume designer Eric Daman joined Not Michael Kors, Nina Garcia, Heidi and Tim. While watching the designs whiz by, I noticed that Miranda and Sue presented looks that were very similar to those they made last week, with Miranda trotting out yet another crop top/pencil skirt combo and Sue showing another dress with a ton of ruching. Still, neither of them ended up in the Bottom 3. But I have to imagine that if they do the same thing again next week, they'll both be there.

This was probably the first time that a runway show was ever stopped midway through because a contestant was having a breakdown. Tim had to rush over and console Helen, who couldn't stop sobbing. She knew that she had bitten off more than she could chew, leaving her look unfinished and poorly constructed. Not surprisingly, she DID end up in the Bottom 3, along with Timothy and Kahindo. I was surprised that Karen didn't end up in the bottom, considering that the bodice of her dress was so ill-fitting that her model looked like she had wings growing out of her boobs. Not sure how that mess earned her safety.

On the other hand, I thought the Top 3—Dom, Sandro and Kate—all deserved to be there. Especially Dom, whose dress was my absolute fave. I would wear that thing to the beach OR on the red carpet. Hell, I'd wear it grocery shopping.

Heidi also liked Dom's dress the best, and Nina applauded her for making it youthful-looking. She also appreciated that Dom's design helped show the jewels from a different perspective. Heidi noticed that Sandro's design once again had "a lot going on," but that it somehow worked this time. But the winning design was Kate's gown, whose "Marie Antoinette fleeing Versailles in her bedsheets" backstory delighted Eric. And Zac proclaimed that it was Kate's strongest work to date.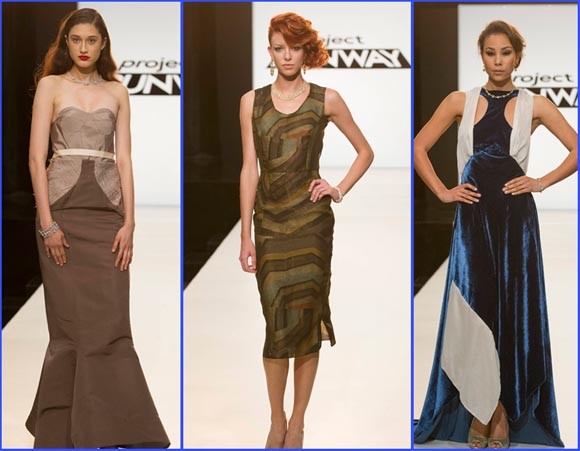 The Bottom 3 designs from (L-R): Helen Castillo, Kahindo Mateene and Timothy Westbrook
Back in the Bottom 3, Helen, Timothy and Kahindo awaited their fates. No doubt Helen's impassioned and teary "I'm gonna do this until the day I die, no matter how many times I mess up" speech convinced the judges to let her off the hook this week. That left Timothy and Kahindo on the chopping block. Even though Timothy's sad blue velvet dress/white vest ensemble looked like it came from the dumpster (oh right, because it did) and inexplicably featured a racerback IN THE FRONT, Kahindo's too-simple "dress from the sale rack" somehow received the lowest score and she was sent packing.

I don't blame Tim for not using his save on Kahindo, because it's way too early for that and she didn't really wow me in her short time, but she definitely didn't have the worst design this week. Again, I would have put Karen in the B3 over Kahindo, and ultimately would have cut Timothy. But I'm sure they'll keep Enviro-Boy around for a few more weeks just to annoy everyone.
Auf wiedersehen — see you next week!