'Project Runway' 12 Recap: Let's Do Brunch
Last night on "Project Runway," the designers had to create a look for the "modern, Southern woman," which somehow resulted in a plaidsplosion. It seemed that most of the designers have a very dated and stereotypical view of Southern gal style, but at least no one ripped down the curtains to construct a crazy hoop dress.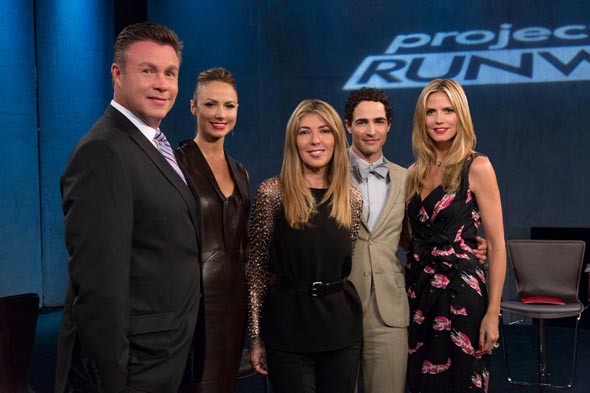 Since Belk (sponsor of the not-always-thoughtfully used accessory wall) is a Southern department store, this challenge was just an excuse for more product placement. However, there was a sweet reward for the winning designer: they get to have their garment produced and sold in Belk stores. This was announced by John Thomas, VP of something or other for Belk, whose name immediately sent me into a fit of giggles. Any Brit or devoted "Sex and the City" viewer will surely understand why.

At Mood, Alexander, Alexandria and Bradon all reached for the plaid, which put the already perma-pissed Ken in an even more foul mood. He was not happy with the "Little House on the Prairie" image that some of his Yank and foreign competitors associated with the South.

Back in the workroom, Tim made his rounds and had generally positive feedback for most everyone. His biggest concerns were with Justin's Halloween color fabrics, Dom's too-simple dress and Alexandria's "crazy quilt" concoction. After bluntly telling Alexandria that her garment was "hideous," she looked defeated but managed to summon up some make-it-work spirit.

At the runway show, all I could think about was how great it was to have Michael Kors back last week, and how I had to mourn his loss all over again. I want the fabulous man in black back! In fact, I'd like the judging panel to just be Heidi, Tim and Kors. And in my perfect Runway world, Kors would be in a giant swivel chair with Swatch on his lap, creepily stroking his fur like he's the villain in a Bond movie. Alas, we're left with Zac Posin' as Michael Kors, Nina, and guest judges John Thomas (tee hee!) and Stacy Keibler. Everything Stacy needs to know about fashion she learned from dating George Clooney: one day you're in and the next day, you're out.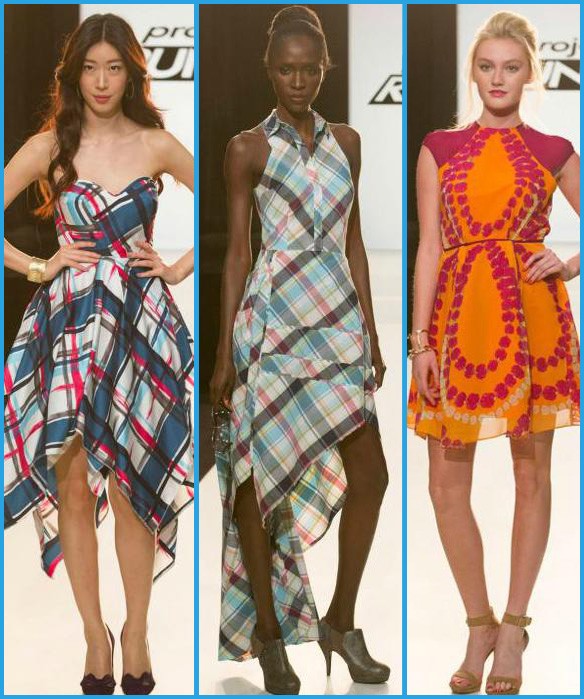 The Top 3 designs from (L-R): Alexander Pope, Bradon McDonald and Kate Pankoke
Alexander, Bradon and Kate were voted into the Top 3, and the judges' love for two of the three plaid dresses left Ken fuming. Oh my God, his face. I haven't seen anyone concentrating that hard on their hatred since "Carrie." I really thought he might use his crazy Southern voodoo mind to burn that runway down.

It certainly didn't help Ken's mood that he was in the Bottom 3, especially since he blathered on the entire episode about how he was the only one who understood the modern Southern woman so he had this in the bag. Hey, what do we Northerners know...maybe Southern women really do like to wear heavy nightgowns to events like "FORMAL weddings!" Strangely enough, Dom, the one other contestant with Southern roots, also earned a low score for her underwhelming maxi dress. Rounding out the Bottom 3 was Jeremy, who turned in a very matronly print dress paired with a red "casino jacket."

After proclaiming Bradon's asymmetrical shirtdress the clear winner (I preferred Kate's cute cocktail frock but once again the judges forgot to ask for my vote), Heidi decided that none of the Bottom 3 designers fully understood the challenge. Because of that, she sent each of them back to the workroom for an hour to either modify their garments or create new ones, with the help of a designer of their choice. Helen helped Dom construct a new dress from the black and white print she originally wanted to use; Jeremy, aided by Alexander, also started from scratch; and Ken enlisted Kate to help him make his existing purple dress more youthful and hip.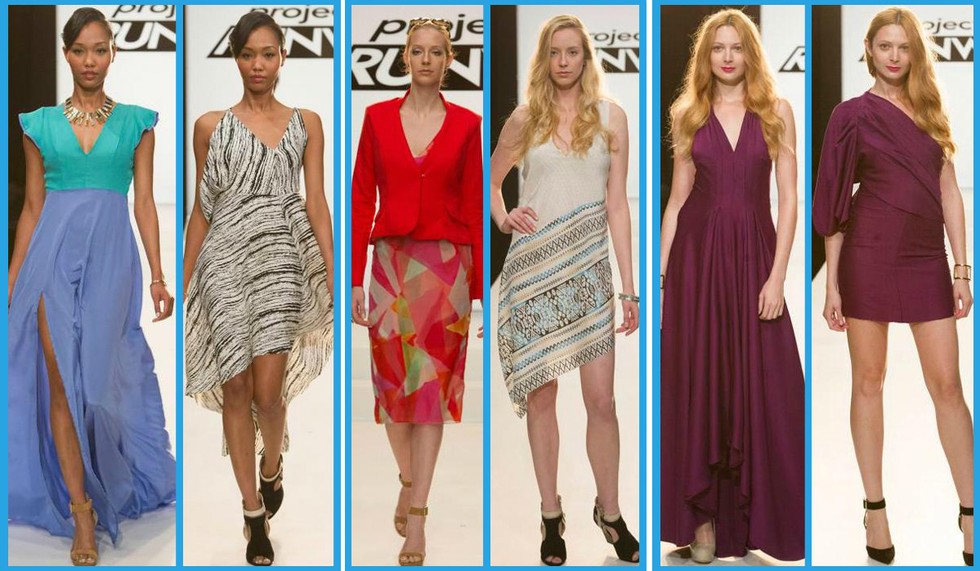 The Bottom 3 before and after designs from (L-R): Dom Streater, Jeremy Brandrick and Ken Laurence
Back on the runway, all three designers were praised for coming up with much better looks in a very short amount of time. John Thomas (tee hee) was so wowed by Dom's new dress that he agreed to produce and sell it at Belk right alongside Bradon's, making her the challenge co-winner.

That left Ken and Jeremy on the chopping block, and it wasn't too hard to figure out what would happen. Hmm, would they keep the handsome, charming Brit who's turned in some very nice work over the season, or would they keep the pain in the ass diva who has routinely landed in the Bottom 3? Right-o, Jeremy was given the old heave-ho. And according to the preview for next week, Ken throws another hissy fit, so I guess in the producers' eyes, they made the right decision. But I bet I'm not the only viewer who's completely bored of his act...and his designs.  

Auf wiedersehen — see you next week!