'Project Runway' 10 Recap: 'Welcome Back (or not) to the Runway'
This week's episode of "Project Runway" is all about red carpet style. Also, it's totally about Lexuses. Is that right? Lexuses? Lexi?  Whatever. The point is: GO BUY A LEXUS, EVERYONE.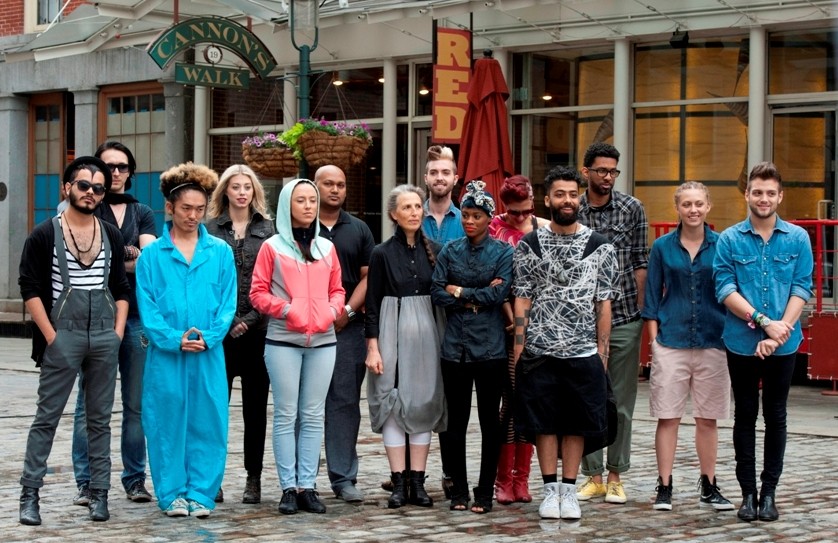 Heidi Klum sends the designers off to meet Tim Gunn at one of my favorite places on earth – South Street Seaport. There, Tim explains that this week's challenge is to create an Emmy red carpet look (for a secret client) with only $300 and in only one day. Then some guy tries to sell us all cars before handing over the keys to his fleet of Lexuses/Lexi to the design teams. Yes, TEAMS. The gang is split up into teams of two, each of which is given a loaner Lexus for the day. Why? Well, so they can drive to meet their clients. Also, each team has to incorporate their car's color into their design. Wow. Worst. Product placement. Ever.
As it turns out, the secret clients are all former "Project Runway" contestants. The team/client combos are:
 • Christopher and Andrea – Anya Ayoung-Chee (Season 9 winner)
 • Nathan and Sonjia – Valerie Mayen (Season 8 contestant)
 • Buffi and Elena – Laura Bennett (Season 3 contestant)
 • Ven and Fabio – Kenley Collins (Season 5 contestant)
 • Kooan and Gunnar – Irina "Meana" Shabayeva (Season 6 winner)
 • Dmitry and Melissa – April Johnston (Season 8 contestant)
 • Raul and Alicia – Mila Hermanovski (Season 7 contestant)
The ante is upped when it's revealed that one designer from the winning team will accompany his or her client to the Emmys!
Most of the contestants are happy with who they draw as partners and clients, none more so than Christopher, who is delighted to be working with Andrea and hopes to learn from her vast experience. However, there are some unhappy faces in the crowd: Ven isn't really jazzed about working with Fabio, Elena is ready to slit her wrists upon being paired up with Buffi, and Death Rage seems concerned not only about his partner Kooky's skills, but also about having a client who can bitch circles around him.

Things in the workroom start out pleasant enough, but when Tim brings the clients along on his rounds, tension among some of the team members sets in, specifically with Elena/Buffi and the once-content coupling of Christopher/Andrea.  When Laura voices concerns about Elena and Buffi being able to complete their "ambitious" design, Elena shifts into psycho mode. As Christopher aptly puts it, she acts like she "escaped from the woods." And Christopher has his own problems with Andrea, whose much-too-laid back demeanor and turtle-like speed bring him close to the edge. Although Mila isn't pleased with the dress Raul and Alicia are creating, the team remains focused and on the same page. Irina is always unhappy, so Kooky and Death Rage try to just ignore her lemon-sucking attitude as best they can. On the flip side, Valerie is always happy, so Nathan and Sonjia kind of have it made. April and Kenley are also excited about their garments, which keeps their respective design teams working harmoniously.

On runway day, things run pretty smoothly. Even Elena has brought her whole "this shit wouldn't fly in Ukraine" attitude down several notches. However, Christopher wants to kill Andrea more than ever, a feeling that Death Rage can completely relate to when Irina turns the bitch knob up to 11. She fixates on a crooked seam near her butt and barks at the boys to fix their mistake while letting them know that she's embarrassed to model their dress. I keep hoping that Death Rage lives up to his name and turns Irina into a pincushion, but he manages to hold it together.
At the fashion show, Heidi, Michael Kors and Nina Garcia are joined by Krysten Ritter, some girl from some bad sitcom that no one watches. How this qualifies her to judge fashion is beyond me.  
When the scores are tallied, three teams are safe: Melissa/Dmitry, Nathan/Sonjia and Elena/Buffi. All of them are genuinely shocked to be merely safe, while Elena yammers on in her private interviews about how she could have won had she been paired with a stronger partner. In Ukraine, someone else is always to blame.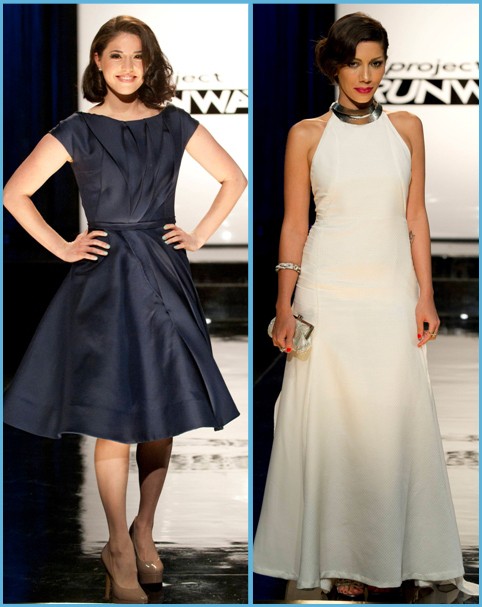 (L-R: Kenley Collins models Ven and Fabio's winning design; Irinia Shabayeva models Gunnar and Kooan's gown.)
The judges' favorite designs belong to Death Rage/Kooky and Ven/Fabio. I don't really get all the love for the Death Rage/Kooky gown, as it's just kind of a boring white dress that seems more suited for an informal wedding than the Emmys. Despite Irina's snotty comments about her designers' sewing skills, the judges think the dress is stunning and dramatic. When asked  who should get to go to the Emmys if this is the winning design, Kooky respectfully points to Gunnar, saying that he never could have created a garment like this without his guidance. (Awwww. This may be the beginning of a beautiful bromance.) In Ven and Fabio's case, each of them chooses themselves as the potential winner, although Fabio admits that the dress looks so great thanks to Ven's draping technique. The tea-length retro dress they created for Kenley is my favorite of the night, as it's not only pretty but also fits Kenley's style and personality to a tee. While the judges all agree on these points, some wonder if this dress would provide as much of a a "wow" moment on the red carpet as Irina's gown might. Ultimately, the panel must feel that the dress is "wow" enough, as it's voted the winning look. Ven wins his second challenge in a row and earns a trip to the Emmys as Kenley's date. Sure, he looks happy now, but after a night listening to her loud blathering, he'll probably wish Fabio had won.  
The lowest scores go to Raul/Alicia and Christopher/Andrea. Raul and Alicia turn in a sad, uninspired, very un-Mila dress, which causes Kors to wonder aloud why the team didn't go with their collective strength (menswear) and make a tailored suit. Raul and Alicia seem to be under the impression that they had to make a dress, or at least try to challenge themselves by stepping out of their comfort zones. Christopher and Andrea's awful brown gown manages to make the lovely Anya look frumpy, which is no easy feat. The judges hate the dress, but not more than Christopher does, who offers up the first runway weep of the season. He says he doesn't want to point fingers, but then all of his pent-up anger about Andrea's work style comes spewing out along with his tears. The guest judge tries her best not to laugh as Christopher and Andrea bicker like a divorced couple over who was to blame for their failure. As it turns out, the tears save Christopher, and Andrea is also given another chance. It comes down to Raul and Alicia on the chopping block, and Raul is given the heave-ho.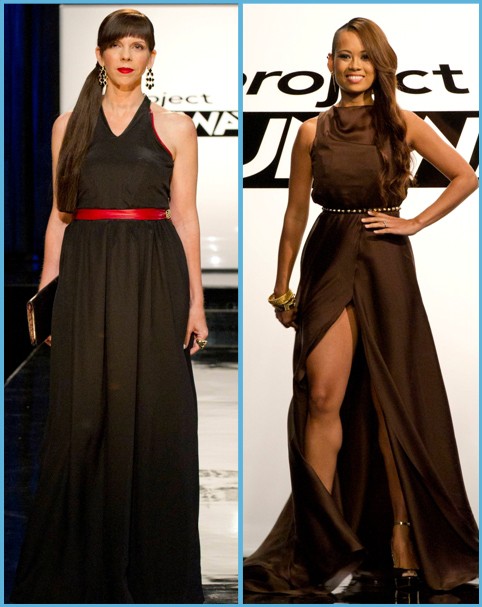 (L-R: Mila Hermanovski dons Raul and Alicia's losing design; Anya tries to make the best of Christopher and Andrea's disappointing dress.)
Perhaps Raul will get to come back when everyone discovers that Andrea sneaks out of the competition in the middle of the night? And from the previews, it looks like a second designer decides to bail, which better not open the door for Lantie's return.
Auf wiedersehen - see you next week!