'Project Runway' 10 Recap: 'Starving Artist'
No, there was nothing wrong with your computer screen last week — Labor Day travel plans prevented me from recapping that episode of "Project Runway." It was kind of an interesting one, with everyone trying to make their designs Lord & Taylor-worthy, and most of the girls having breakdowns, but it turned into kind of a nicey-nice love-fest when all the designers were deemed "good enough" and no one was eliminated. So since we're starting this week's episode with the same 9 designers that were there last week, it's kind of like a recap from last week wasn't even necessary, right? Please help me make excuses for myself! (By the way, if you're looking for the recap of the August 23 episode, it was featured on the official Project Runway blog.)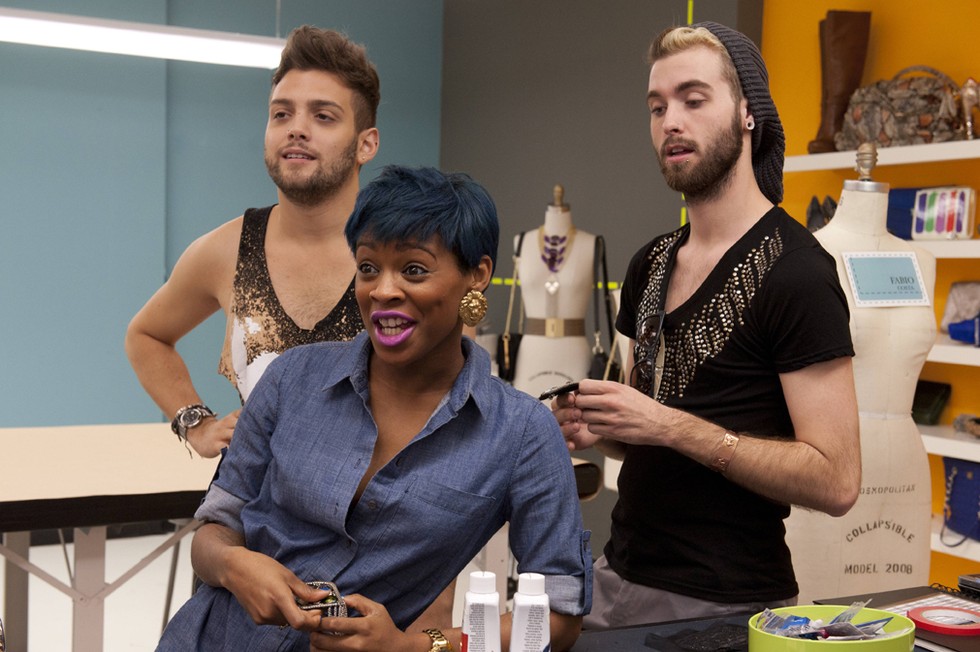 For this week's challenge, Tim Gunn threw the designers a bit of a curveball by announcing that there would be no "free money" as usual, but that everyone would have to do their own fundraising by offering New Yorkers services (get your minds out of the gutter) or custom-made merchandise (glitter T-shirts, hand-painted tote bags, that sort of thing). And while they were still reeling from the curve, Tim beaned them with his next pitch: Y'ALL ARE WORKING IN TEAMS...mwah hahahaha! Bring on the button bag of doom!

Since Christopher and Gunnar hate each other and Dmitry and Elena share a mutual loathing, they naturally ended up on teams together. Sonjia wasn't thrilled about being sandwiched in between Christopher and Gunnar, and Alicia looked like she wanted nothing more than to defect from Team Russia. Only the team of Ven, Melissa and Fabio seemed happy with their situation.

Once the teams had created their merch, they took to the streets to sell, sell, sell. No one was doing very well at first, but eventually sales picked up because, well, who wouldn't stop and part with a $10 or $20 for a chance to end up in a "Project Runway" scene?  (Yeah, I'd even buy an ugly tank top from Elena, whom Dmitry dubbed "Walking Depression.") At the end of the day, Team Dmitry brought in $500, Team Christopher raised $684 and Team Ven cleaned up with $800...and 48 cents!
Finally, the designers were let in on what they were to actually use their budgets for: two cohesive looks for fall, with at least one piece of outerwear. Everyone headed off to Mood, where we finally got to see Swatch again! And he was adorable! And he had a toy! And it matched Elena's neon nail polish!

Tim came for his usual rounds and was met by a lot of sour faces. Team Dmitry was especially negative about what they were doing, but Elena found time to throw some negativity Team Christopher's way, as she described Chris's sleeveless trenchcoat as an "ugly-ass Snuggie." (And Christopher found time to finally make the comparison I've been waiting for: Dmitry and Elena = Boris and Natasha). His teammate Sonjia's coat wasn't looking particularly great either, but it was nowhere near being finished. Gunnar's dresses were very well done and provided great foundations for both of his team's looks. Over at Team Ven's table, a lot of the pieces looked very simple and a bit on the cheap side, so Ven's "fan effect" (what else?) skirt didn't really fit with the collection. Against Ven's wishes, the team decided to scrap it and have him make a much more plain skirt design.

At the runway show, designer Anna Sui sat in as guest judge, alongside Heidi Klum, Michael Kors and Nina Garcia. The judges chose Team Christopher as the clear winner, while both of the remaining teams were lumped into the loser pile, putting six designers in danger of being eliminated.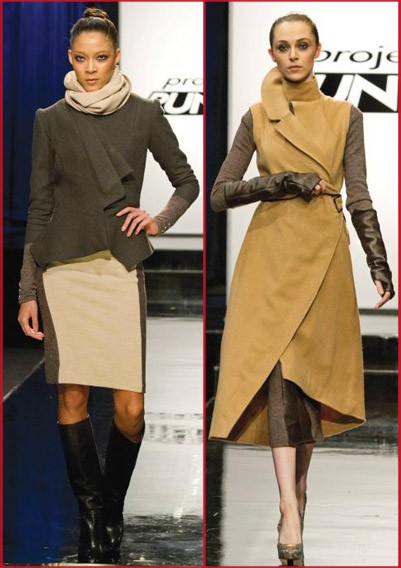 Team Christopher's winning designs.
For Team Christopher, the highest praise deservedly went to Sonjia's green pea coat. Gunnar also received good feedback on his sporty dresses, and the judges loved Christopher's camel trench, which I just didn't get. (I have to admit to being more in Elena's camp when it comes to that piece.) When Heidi asked which of the three should win, Gunnar (pugnaciously, ha ha) and Sonjia picked themselves, while Christopher actually gave it up for Gunnar. The two of them managed to work quite well together during the entire challenge, so maybe the feud is over?

The judges then talked to Team Dmitry...or they tried to get some words in between all of Elena and Dmitry's bickering. Nina managed to give both of them a verbal smackdown, complaining that she's equally tired of Dmitry only making dresses and Elena constantly making oversized coats. Anna called them all out for their lack of teamwork, saying that their conflict showed in the clothes. Kors had the best comment, as usual, saying that Elena's coat looked like it was sewn with her feet! (Lifetime should really sell a Kors bobblehead that says ridiculous things.) But while there may have been problems with Dmitry's and Elena's looks (and attitudes), Kors conceded that at least they had vision and passion. He felt Alicia didn't even try, and eventually turned in pieces that put him to sleep.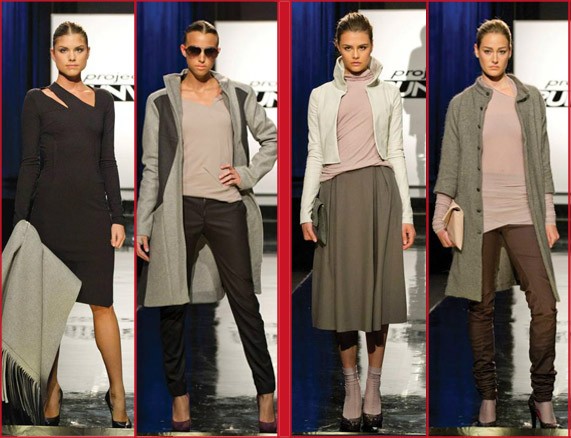 (L-R): Team Dmitry's designs and Team Ven's designs.
Team Ven was Heidi's least favorite team, as their collection just looked "sad" to her. The only piece that rose above the rest was Melissa's white jacket. The mohair coat that Fabio designed was a total flop, as Kors hilariously compared it to a grandmother's housecoat that should have "Kleenex in the pockets." (Again...I want my Kors bobblehead!) I did quite like the color palette, but totally agree with the judges consensus: everything just looked cheap. And that was frustrating because Ven's team had the most money to work with! Oddly enough, this was also the team that got along the best, which Anna felt may have been their downfall. She warned that while it's important to be a team player and work well together, when everyone is TOO nice to each other, no one challenges their team members to do more...and you end up with a bunch of clothes that look like hand-me-downs.
In the end, although Team Christopher gave Gunnar two votes, Sonjia was named the challenge winner. And when the final designers left on the chopping block were Fabio and Alicia, it wasn't hard to predict (especially after last week's trip to the Bottom 2) that Alicia was going home. Too bad it wasn't Ven. I guess he really didn't deserve it this week just based on his work, but he really deserves it every week just because he's a giant A-hole.

Auf wiedersehen - see you next week!