'Project Runway' 10 Recap: 'It's My Way on the Runway'
Sorry about the lack of a "Project Runway" recap last week. Perhaps I was particularly busy, or perhaps I was curled up in the corner gently weeping over Buffi's elimination. More than Andrea's disappearing act or Kooan's decision to quit, it's Buffi's aufing that has put a bit of a dark cloud over the Parsons work room. While I would probably never ask Buffi to design my clothes, I would totally want to be her friend. And I would just let her talk to me in that amazing accent all day.
But Buffi's gone and the show must go on. And hey, we've got Raul back. Whoop-de-doo.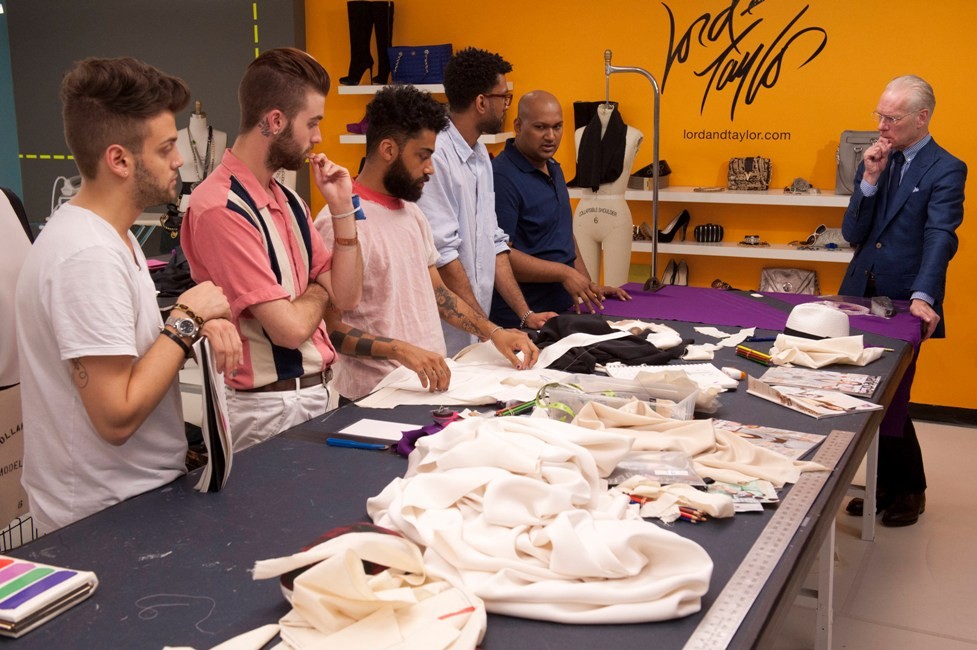 Heidi Klum appears with the velvet button bag of doom, revealing that the designers will be split into two teams. As the bile rises in all of their throats at the prospect of teamwork, Nina Garcia stops by to explain this week's challenge: to create a "fashion capsule collection" for the modern, professional woman that is both editorial and appropriate for the workplace. Each team will also direct their own photo shoot, and the winning team's shoot will appear in a Marie Claire @ Work spread. Making this challenge even harder is the time constraints: the teams only have until the end of the day to complete their looks. There will be no time on Day 2 for last minute fittings, as the photo shoots need to be done in the morning.    
The unoriginally-named teams are:
Team 6 - Sonjia, Elena, Melissa, Dmitry, Alicia and Raul
Team 5 - Nathan, Ven, Christopher, Fabio and Gunnar
During the sketch/concept phase, the designers of Team 5 each agree to create one complete look. Conversely, Team 6 decides to have each designer create the pieces that they do best: Alicia focuses on pants, Sonjia on skirts, Dmitry and Melissa on dresses, and Elena and Raul do tops. Because Raul is the last-picked gym class reject, he immediately starts thinking of ways to stand out, or at least cover his ass so he doesn't get sent home...again. The rest of Team 6 seems to be on the same page, particularly in their frustration with Raul. Similarly, the men of Team 5 aren't too happy to be saddled with Gunnar.
It's off to Mood and...hey, have you noticed that we haven't seen Swatch in a while? Where is he??
Back at Parsons, things immediately start to go bad for Team 6 when Elena finds that she's missing a bag of fabric. She morphs into what Christopher describes as "an animal escaped from the woods," howling and prowling around the work room and stressing everyone out. Team 5 seems OK for the most part, except for Gunnar's complaint that he "feels like a tailor."
When Tim Gunn makes his rounds, Team 6 gets mostly good feedback (despite Elena's insistence that one of her looks is garbage), while Team 5 is met with concerns that their black and white and bright all over color palette is a bit "clownish." The gang makes some adjustments in an effort to bring it down a few notches from what Gunnar calls "drag queen cocktail hour."
During the mad dash to finish by 11 pm, Elena continues to be a thorn in everyone's side, from her taunting of Team 5 (calling them the "Silk Chiffonies") to just randomly screaming obscenities at anyone within earshot. Interestingly enough, Elena was voted "fan favorite" this week. I wonder if that would still be the case if any of these fans had to actually work with her?
Dmitry clarifies for everyone that "everyone hates Elena...even if they say they like her." (So maybe all the fans who made her their favorite were all being ironic?) My first impression of Dmitry was that he was probably a jerk, but he's grown on me more and more with each episode. I'm always amused by his loose grasp on the English language, like when he calls Ven a "one-way monkey" before finding the proper term "one-trick pony."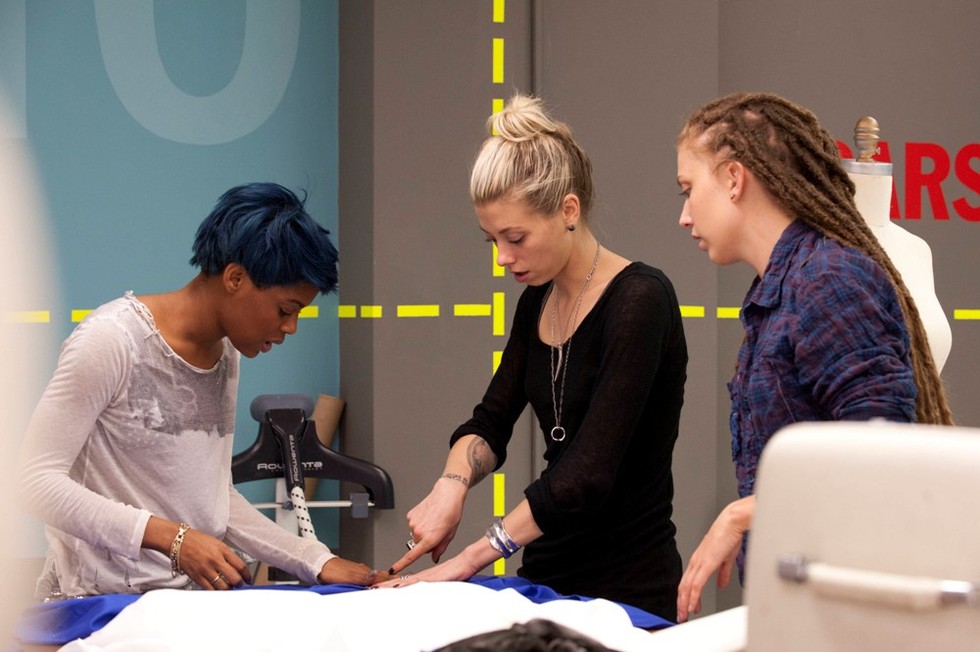 On Day 2 in the photo studio, Elena picks up where she left off, bossing everyone around and complaining about everything from the props to the way the outfits are photographing. However, everyone makes it through the shoot without shooting her and then it's off to the runway show, where Marie Claire's Editor-in-Chief, Joanna Coles, sits in as guest judge. 
When the scores are tallied, the winning team is...neither! Because there are elements of both collections that the judges love and loathe, they end up in a tie. That means that anyone can be the challenge winner and anyone can be sent home.
Team 5's finished collection is mainly black and white, accented with a feminine purple print throughout. Heidi thinks it was a smart move bringing in that softer fabric to balance the harshness of the solids. Nina is impressed that it really looks like a cohesive collection and Joanna says that the clothes look easy to wear. The panel zeroes in on Christopher's print skirt and Fabio's simple dress as the stars of the collection, but can't agree on whose look is the worst. Heidi hates Gunnar's "boob souffle" dress, which she says looks cheap compared to the other designs. However, Nina has a problem with Nathan's one-shoulder blouse/white pants combo, specifically that the front drape of the pants make them look too leisurely and pajama-like. However, when Heidi asks each team member who the weakest link is, the consensus is that it's Gunnar, except with Gunnar (natch) and Fabio, who gives some bizarrely evasive answer about how Ven's look was the strongest.
Team 6's collection features blacks, grays and a gorgeous royal blue. (And although Dmitry's color-blocked dress is supposed to be navy and black, the blue appears much more vibrant in the photo spread.) Nina praises the collection as modern with "very editorial touches," while Joanna sees the commercial appeal in all of the pieces. Everyone loves the trousers that Alicia made and feel that Melissa's blue dress is a "showstopper." No one seems impressed with Raul's ruffled top or boring vest, while Joanna and Heidi take opposing views on Elena's and Dmitry's outfits and their suitability for the workplace.  When Heidi asks Team 6 who their weakest link is, everyone says Raul, except Raul (natch, again) and Dmitry, who both think that Elena's abrasive attitude caused most of the problems on their team.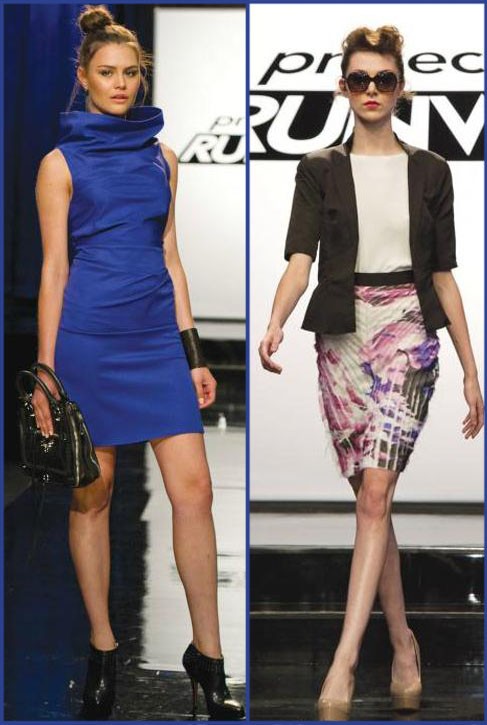 Melissa's winning blue dress and Christopher's look for Team 5's collection.
Although both team's photo shoots appeal to the judges for different reasons, Team 6 is ultimately named the winner. Not surprisingly, Melissa's editorial yet real-world chic blue dress earns her the challenge win.
One by one, more designers are sent off to safety, until only Raul and Gunnar are left on the runway. Despite being on the winning team, Raul is out...again. He doesn't seem all that broken up about it, and uses his departure as the perfect opportunity to tell Elena just how much he "hates her ass." Finally, Raul makes me kind of like him, but it's much too late.
Auf wiedersehen - see you next week!