'Project Runway' 10 Recap: 'I Get a Kick Out of Fashion'
This week's recap of "Project Runway" is a little late. I hope you'll forgive me. I guess I was celebrating Ven's elimination a little too hard. Yeah! Can I get a woot woot?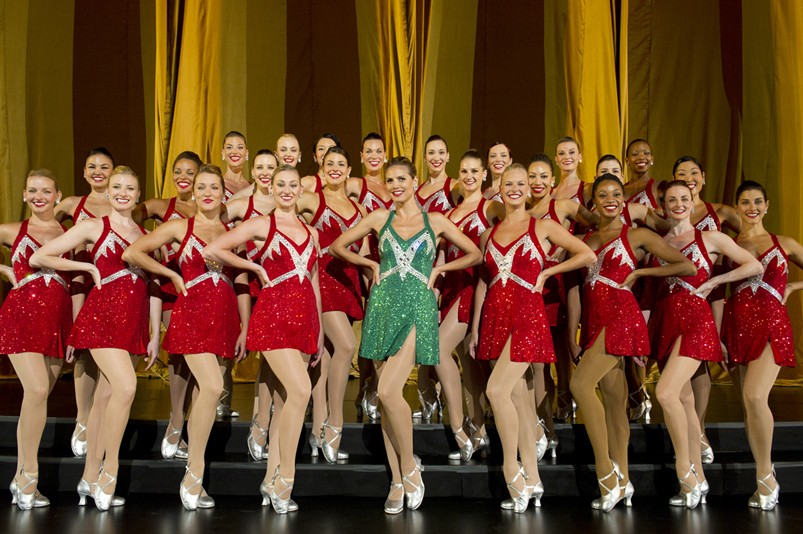 Heidi Klum joins The Rockettes at Radio City Music Hall.
Since you're surely all aware of how things went down on Thursday – and even if you didn't before, you know now since I just gave away the ending in the first paragraph – I'll make this recap a little more brief than usual. And I've always found the best way to do that is to wrap things up Good, Bad, Ugly style. So, here we go…
The Good
-  The challenge. In this case, each of the designers had to create a new costume for the Rockettes. I've always enjoyed the "costumey" challenges because they tend to weed out those with no imagination.
-  Christopher dressed up like Sonjia. Although it was funny, Christopher doesn't make the prettiest girl. Which is odd, since he's such a pretty boy.
- Elena finally loosened up. Not only did she apologize to Dmitry for being "a bitch," but she also decided that she was just going to have more fun, period.
- Debra Messing did a pretty good job as guest judge. She was nice, but still gave good constructive criticism.
- Dmitry's and Christopher's designs. They certainly deserved to be in the Top 3, although one could argue that Dmitry should have won instead of Christopher. While I agree that Christopher's design (a shimmery salute to the NYC skyline) was an inspired idea and beautifully executed, I agreed with Nina Garcia that there was "no movement" to the dress, which is going to be really important when those Rockettes start kicking. But I'm not unhappy that Christopher won. I just thought that Dmitry's sexy, shiny, fringed design fit had the movement and screamed "showgirl" much louder.
- Ven's aufing. Ha ha ha. He finally bored the judges past the point of no return. HAHAHAHAHA.
- Quotable Kors. As always, my dear Michael Kors turned several colorful phrases. But none were better than his assessment of Ven as a designer: "That could be his drag name: Origami Rose."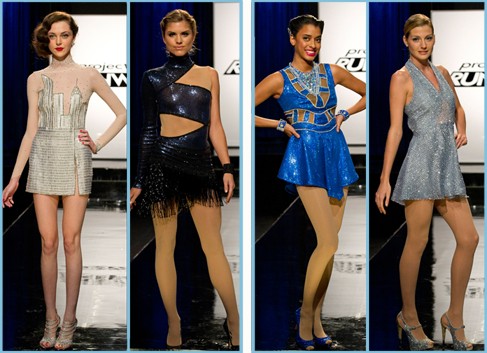 (L-R): Christopher's winning skyline design; Dmitry's saucy one-shouldered dress;
Elena's major(ette) catastrophe; Ven's uninspired frock finally earned him a trip home.
The Bad
- Once again, Swatch was nowhere to be found. And there was really no excuse since the designers got to make TWO trips to Mood.
- All of the other designs. Aside from Dmitry and Christopher, everyone else turned in pure crap. Ven's bland blue number and Elena's "Las Vegas cheerleader" costume were the Bottom 2 designs for very good reason.
The Ugly
- Sonjia's purple bird outfit wasn't nearly as bad as Fabio's design. I thought his was easily the worst…even worse than Elena's. He basically threw together an ugly, drab bargain bin gladiator Halloween costume and somehow got a pass to safety. Still, I guess I won't complain because I'd rather see Ven go home than Fabio.
Auf wiedersehen - see you next week!