'Project Runway' 10 Recap: 'Candy Couture'
This week's episode of "Project Runway" begins with Kooky Kooan struggling to wake up and Ven struggling to accept the judges' decision to name Christopher last week's challenge winner. Gunnar Death Rage was concerned Christopher's head would swell after his win, but that would be impossible considering that Death Rage and Ven are pushing the ego capacity of the work room as it is.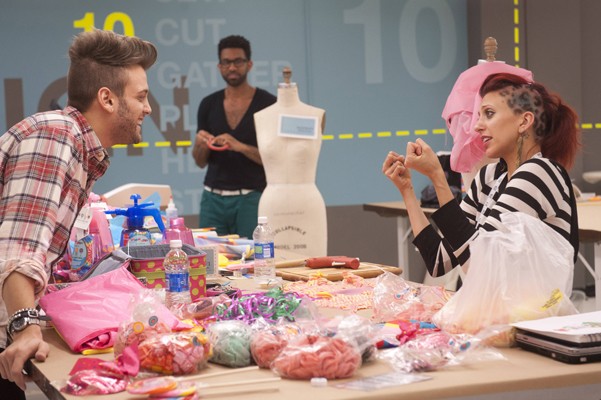 Buffi Jashanmal looks like she's ready to pour some sugar on Christopher Palu.

Heidi Klum—looking exceptionally adorable in a plaid sheath—calls the designers to the runway for some of her standard not-so-subtle hints about the upcoming challenge. And when the gang finally meets up with the delicious Tim Gunn at Dylan's Candy Bar, it doesn't take them long to figure out that this is the famous unconventional materials challenge! The contestants are like...well...like kids in a candy store (natch), when they not only get $250 to spend on treats but also a sweet 50% discount from Candy Bar CEO Dylan Lauren, daughter of Ralph Lauren and this week's guest judge. The designers grab all the candy vines, twines, strings, balls and beans they can get their sticky fingers on before heading back to the work room to start crafting their confections.
Back at Parsons, each designer tries to stay true to his or her aesthetic while still thinking outside the box and resisting the urge to chow down on their materials. There are plenty of different takes on this challenge: Fabio wants to create a classic Jackie O-inspired design, Alicia hopes to transform her sugary substances into a grungy, tomboy look, and Kooky continues to be as kooky as possible.

In this calm before the storm (storm = first group challenge), Season 10's designers are getting along pretty well. Some become annoyed by Buffi's brual attack on a poor, defenseless umbrella (all in the name of her design, of course), but it's only a momentary distraction. And while many evil looks and sighs are exchanged between Christopher and Death Rage, nothing dramatic actually transpires between the two. Of course, Death Rage tells the audience that he thinks Christopher feels "threatened" by him. Maybe he is. And maybe it's because Death Rage keeps staring at him like he wants to cut out his kidneys and eat them.

Tim stops by for his usual rounds, and seems impressed overall with the designers' progress. Aside from being completely bewildered by Kooky's weirder-by-the-minute demeanor and concerned with Dmitry's lack of time management, he doesn't have many harsh words for anyone...until he gets to Andrea. Looking like he might retch (perhaps he hit the Swedish fish too hard), he bluntly tells the oldest designer that he's "underwhelmed" by her sloppy-looking candy button apron. Tim's critique causes Andrea to cut her design apart, a decision she immediately regrets. Andrea eventually decides to listen to herself instead of Tim, goes back to her original concept and prepares to be auf'd.

When the models arrive for their first fittings, there isn't much for them to try on, so they just have to stand around and...eat! The models are eating the candy! Oh well, they'll just have to double up on laxatives later.

Unhappy with her design, Lantie ditches the sweets and decides to just use an umbrella as her dress fabric. Now, if she were giving up candy for a diet or Lent or something, that would be fine. But to do it during the candy challenge? Well, that's pretty much suicide. And speaking of suicide, Elena nearly goes out in a blaze of hot glue! Luckily, a medic is on hand to tend to her burns, and Elena lives to see runway day.
Unfortunately, in the hours leading up to the big show, Elena's licorice dress continues dying its slow death, with pieces falling off here and there. Maybe it's an attack of sudden glue gun-shyness brought on by her Day 1 mishap, but Elena just can't get her design to stick. Meanwhile, Kooky and Buffi are also having last minute problems. Apparently, they weren't aware of cotton candy's short lifespan, which means they have to recreate some components of their designs that had disintegrated overnight.      
At the runway show, guest judge Dylan Lauren joins Michael Kors, Nina Garcia and Heidi, who is now clad in something that looks like snakeskin pajamas. Sure, it looks comfy enough, but come on. How does she have the guts to critique anyone else's clothes while wearing that outfit?

When the scores are tallied, nine designers are safe, including Melissa, Dmitry and Kooky, whose designs all stand out to me for one reason or another. The construction of Melissa's heavy metal groupie tank/mini skirt ensemble is terrific, as she somehow managed to make black licorice and twist ties look like leather. Although the top of Dmitry's dress (made from a black tee-shirt) isn't particularly imaginative, I really enjoyed the flapper-esque skirt of sour ball "fringe." And I'm not sure I necessarily like Kooky's cotton candy/licorice/jelly bean concoction, but I kind of love that it looks like one of those Native American bead change purses all my friends and I had back in the day. Aw, Kooky's got me feeling all nostalgic.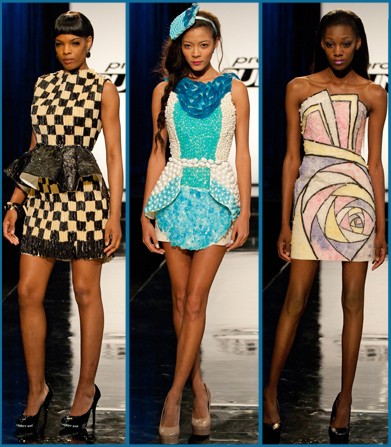 Top 3 designs from (L-R): Gunnar, Sonjia and Ven. Ven wins the challenge.

The judges' favorite designs belong to Gunnar, Sonjia and Ven. Heidi is impressed by how chic Death Rage's black/cream checkerboard dress (made of licorice and candy foil) is, and I have to admit to liking it too. The design is good enough to quell (for now) my near-constant urge to slap his stupid, smug face. Kors likes that Death Rage also accessorized the outfit with candy—a real selling point for Dylan, who is ready to put that dress in her store window right now. Dylan is even more excited over Sonjia's adorable aquatic themed-dress, which features gummy sharks, jelly beans and gumballs. Everyone agrees that Sonjia's design is beautiful and perfectly executed, but it still finishes second to Ven's "stained glass" cocktail dress, created from black licorice and crushed rock candy. Kors mentions that Ven "knows he's good," which is exactly what I don't like about the guy, but in this case all of his self-inflicted pats on the back are warranted. As soon as his model stepped out onto the runway, I knew Ven's was the winning design. The color palette is immediately eye-catching and on-trend, while the silhouette is surprisingly figure-flattering, considering the dress is made primarily of rigid rock candy. (Let's just overlook the fact that the design is so fragile that Ven's model is forced to walk like she has a Chick-o-Stick up her a-s-s.)

In the Bottom 3 are Buffi, Elena and Lantie. (For all of her earlier hand-wringing, Andrea and her candy dot apron sailed right through to safety.)  Buffi gets ripped apart for her pink explosion, described as everything from "a five-year old going to a birthday party" (Heidi) to "'Toddlers and Tiaras' gone berserk" (Kors). The only one who doesn't seem to hate it is Dylan, but she may care more about product placement than good design. Having used only one type of candy—pina colada licorice—Elena 's dress doesn't fit in either of those categories. My favorite Kors-ism so far is leveled at Elena's design: "rigatoni Mad Max!" Yeah, the cream-colored licorice totally looks like noodles. And not only do noodles make you fat if you eat too many of them, but they also make you look fat when you wear a dress out of them. The shape is much too boxy and severe. "Severe" is clearly Elena's thing, but Nina reminds her that she could have loosened up a bit and at least had some fun for the candy challenge. Elena doesn't seem too happy about the panel's critique, but I think they're actually being pretty nice considering that none of them call attention to the fact that Elena's dress is still shedding noodles.(Er, I mean licorice.) And then there's Lantie. Lantie, who should have gone home last week for showing no imagination or taste. Lantie, who finally gets the boot for her inability (or snobby refusal) to simply use candy in the candy challenge. Bye, Lantie. We hardly knew ye, and we're fine with that.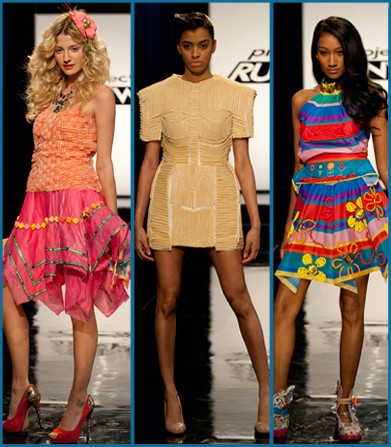 Bottom 3 designs from (L-R): Buffi, Elena and Lantie. Lantie is eliminated.

Things will certainly heat up next week when the designers have to work in teams of two. From the preview, it appears that the teams will be creating looks for former "Project Runway" contestants like Anya Ayoung-Chee and Kenley Collins. And in a wonderful stroke of luck, Death Rage's team gets stuck with "Meana" Irina Shabayeva as a client. As a certain young man from Springfield might say, "HA-ha!"

Auf wiedersehen - see you next week!