Professor Green Splits From TV Star Girlfriend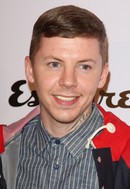 British rapper Professor Green has split from his on/off girlfriend, according to a U.K. report.

The "I Need You Tonight" hitmaker had been dating British TV actress Candy McCulloch, who stars in U.K. drama series Hollyoaks, for more than a year, but the pair broke up last December before reconciling a week later.

However, they have now gone their separate ways for good, according to Britain's News of the World.

When asked by a reporter about his love life, the star replied, "What love life?"