Producer Says Lucky Coin Helped Jean Dujardin & 'The Artist' Win Top Oscars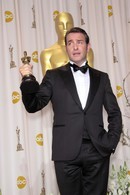 The star of The Artist has a lucky coin to thank for his Best Actor Oscar win, according to producer Thomas Langmann.

The young movie mogul, who is late filmmaker Claude Berri's son, was given the coin as a charm from his daughter - and when it proved lucky at the Cesar Awards in France on Friday night, he chose to share the good fortune with Jean Dujardin at the Academy Awards on Sunday.

And it worked for the French star, who beat out George Clooney for the honor.

He says, "My daughter gave me a coin and that I had in my pocket. I didn't think we would win the Cesar, and we won. So, a few awards before Jean Dujardin, I told him, put this in your pocket. Then he won.

"I went back to see him, and I said, 'Give me back my daughter's coin,' and it was in my pocket (when we won for Best Film)."