'Prison Break' Season 3 Escapes On DVD Aug. 12; Win It!

Most men would think breaking out of prison once is hard enough. However, escaped convict Michael Scofield finds himself wrongly incarcerated, this time in a Panamanian Prison where there are no rules, no wardens and no escape.
In
Prison Break
Season Three
, breaking-out on DVD and Blu-Ray Disc (BD) August 12th from Fox Home Entertainment, Scolfield, morally-deprived T-Bag, former-guard Bellick and FBI Agent Malone, must not only fight to survive but also plan the most dangerous prison escape yet. Deemed "gripping, gut-wrenching" (
Dallas Morning News
) and "one of TV's guiltiest pleasures" (
Variety
), the third season of the top-rated series is filled with intense suspense, drama and action. Garnering multiple Emmy nominations and a People's Choice® Award for Favorite Television drama, "Prison Break" stars Golden Globe® nominee
Wentworth Miller
(
The Human Stain
,
Underworld
), heart-throb
Dominic Purcell
("John Doe,"
Blade: Trinity
),
Amaury Nolasco
(
Street Kings
,
Transformers
),
Robert Knepper
(
Hostage
),
Jodi Lyn O'Keefe
(
She's All That
) and
William Fichtner
(
Crash
).
Featuring all 13 full-hour episodes on a four-disc DVD set, "Prison Break" Season Three boasts exclusive bonus features including featurettes, directors' takes, behind-the-scenes with the cast, a bonus episode from explosive series "
The Unit
" and more, available August 12.
"Prison Break" Season Three Synopsis:
Michael Scofield (Miller) finds himself once again imprisoned - but this time at SONA, a Panamonian Prison without rules and without guards. Along with fellow inmates T-Bag (Knepper), Mahone (Fichtner) and Bellick (Williams) and with the outside aid of brother Lincoln (Purcell), Michael not only must fight to survive, but is also tasked with breaking out of prison…again.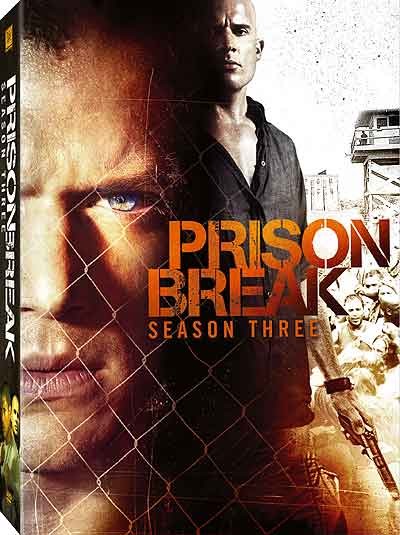 "Prison Break" Season Three Special Features and Disc Content:
"Prison Break" Season Three DVD is presented in full screen with English 5.1 Dolby Digital Sound with English, Spanish and French subtitles. The following episodes and special features are exclusive to each disc:
Disc One:
- "Orientation"
- "Fire/Water"
- "Call Waiting"
- "Good Fences"
Disc Two:
- "Interference"
- "Photo Finish"
- "Vamonos"
- "Bang and Burn"
Disc Three:
- "Boxed In"
- "Dirt Nap"
- "Under and Out"
- "Hell and High Water "
Disc Four:
- "The Art of the Deal"
- Orientation - featurette
" Breakout Episode - featurette
" Director's Takes:
- Episode 1 - Kitchen to Morgue
- Episode 2 - Whistler and Mahone
- Episode 3 - Red Light
- Episode 4 - Gravedigger
- Episode 5 - T-Bag
- Episode 6 - Panama
- Episode 7 - Car Crash
- Episode 8 - Whistler's Escape
- Episode 9 - Hair/Makeup
- Episode 10 - Sammy Dies
- Episode 11 - Rain
- Episode 12 - Night Escape from Sona
- Episode 13 - Foot Race
- Between Takes:
- Panama
- Jodi Lyn O Keefe
- Chris Vance
- William Fichtner
- Amaury Nolasco
- Robert Knepper
- Danay Garcia
Full Episode: "The Unit"
-
Click here to enter the "Prison Break Season Three" DVD Contest
-next: Blu-Ray Disc Specs