Princess Kate's Maternity Style Secrets Revealed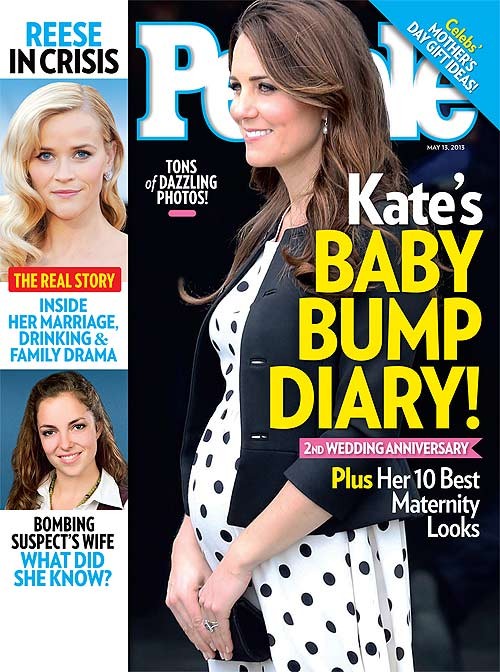 As the royal couple celebrate two years of wedded bliss and count down to baby, at seven months pregnant Princess Kate looks more polished than ever. From hairstyles to hemlines, this week's issue of PEOPLE magazine reveals The Kate Effect in dazzling photos: her Top 10 style tricks for looking great while dressing for two. Below are five of the Duchess of Cambridge's style secrets:

1. Keep It Classic: Say hello to the new Jackie O. "Kate's look is incredibly chic and rather retro," says British maternity expert Rosie Pope. Modern approach aside, "Kate reminds me of Jackie Onassis when she was pregnant. She's happy to show some leg with that 1960s vibe, but in general she covers up."

2. Bye Bye, Belt: The royal recycler just raised the bar. For a St. Patrick's Day ceremony with the Irish Guards, Kate donned the very same forest green Emilia Wickstead coatdress she wore last year – minus one all-important accessory. "She has a figure like a model," says coat designer Katherine Hooker, who has taken Kate's measurements. "She's one of those lucky pregnant women who hasn't changed much." The result? Only the belt got bumped.

3. Don't Stop till You Pop!: Rather than rush to revamp her wardrobe, the duchess debuted her belly in a Max Mara jersey wrap dress that clung to every new curve. "Kate is clearly a very confident, healthy woman who is comfortable in her own skin," says the brand's creative director Laura Lusuardi. "It will be interesting to see what she does at eight and three quarter months," adds U.K. fashion expert Hilary Alexander. "After that, it does get a little tricky."

4. Maximize Your Assets: Six months pregnant, Kate pulled off a non-maternity floral Erdem frock and thigh-grazing coat while showing off her toned calves. "She's got great legs," says Alexander. The fitness enthusiast, who enjoys yoga, has every reason to flaunt the results. "Kate does a remarkable job of dressing herself in silhouettes that flatter her figure perfectly," says Pennie.

5. Ban the Yoga Pants: She snapped up a pair of yoga leggings at London shop Sweaty Betty, but this princess keeps her stretch pants at the Palace – and sticks to skinny jeans in public. "The combo of skinny jeans and blazers is literally flying out the door," says Evelyne Callens, founder of London maternity boutique Pretty Pregnant. "It's just a great message she's sending – that even when you are pregnant, you can still keep your own style."

More on Princess Kate's style choices, including insider interviews with designers and royal watchers, plus new photos, are featured in the 5/13/13 issue of PEOPLE, on newsstands (and tablets) Friday, May 3.


*Also In This Week's 'People'*
Reese Witherspoon's Arrest: "This Isn't Going To Break Up Their Marriage"
Bombing Suspect's Wife, Katherine Tsarnaev: "It's Sad To See How She Changed"
How Did Cher's Mom React To Chaz'S Sex Change?: "That's Interesting, Sweetheart"
Jason Aldean: Heading For Divorce
People's Teacher Of The Year - Destination: College!