Prince William & Kate Middleton's Royal Tour - All The Details!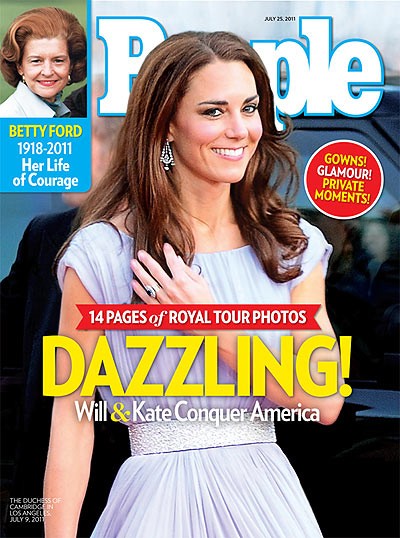 From a rodeo to a night with Hollywood's A-listers, William and Kate, the Duke and Duchess of Cambridge, aced their first visit abroad – and even found time for romance. This week's issue of PEOPLE features 14 pages of dazzling gowns, glamour and private moments during the couple's Royal Tour, in which many show-stopping moments were packed into just 48 hours in Los Angeles.

When the hottest royals on the planet hit the world's starriest city, the result was a fusion of off-the-charts glamour and surprisingly intimate moments that awed even a town full of A-listers. But as they did throughout the first part of their tour, in Canada, the 29-year-old newlyweds displayed an uncanny gift for making everyone feel like a VIP. The couple was determined to chart a new, contemporary course for the royal family; no curtsies, no receiving lines, first names just fine, thanks.

At one point, a roomful of Hollywood's heaviest hitters anxiously jockeyed for an audience with the royal couple. "It was the first time I've seen major stars becoming like little schoolkids, going, 'Um, when would it be a good time to say hello?'" says Owain Yeoman, who stars on the CBS drama The Mentalist and was honored at a British Academy of Film and Television Arts event July 9. "The surreal-o-meter was pretty high."

Barbra Streisand and James Brolin, Tom Hanks and Rita Wilson, Nicole Kidman, Jennifer Lopez, Jennifer Garner, Blake Lively and Dana Delany were among Hollywood's hottest stars that turned out for the BAFTA gala. At the event, Streisand told PEOPLE that the couple was "very charming. I told him about his mother's being so gracious the night of the Prince of Tides opening in London. She made me stand up first, quite contrary to protocol."

Delany tells PEOPLE that William "has a bit of reserve, and you can tell that he was raised to do this since the day he was born. Kate is much more present. They laugh a lot together and finish each other's sentences. It's a Cinderella story!" So You Think You Can Dance executive producer Nigel Lythgoe adds that Kate "is so full of natural charisma." Yet for all her poise and posture (common refrain: "She's so tall!"), the future queen of England proved herself endearingly down-to-earth. "She said, 'My hair just keeps getting bigger and bigger in this weather!'" says Gina Nalamlieng, 32, who met Kate in the ladies' room at a July 9 charity polo match. The princess added, "I would love to come back here with my bikini next time and relax."

The beach vacation will have to wait: After returning to their cottage in Wales from their triumphant tour, the couple "want to have a married life together under the radar" in the coming months, says a source close to them. Prince William, a helicopter pilot with the RAF, will begin rigorous training for his flying captaincy and soon will be deployed for two months – away from his new wife – while Kate hopes to settle on charitable pursuits. But for those who scored their own royal moment, the fairy-tale memory will last a lifetime. Says Yeoman: "Everyone was completely enraptured by them."


*Also In This Week's 'PEOPLE'*

Betty Ford 1918 - 2011: "She Was The First To Tackle The Public Stigma"
What's Next For Casey Anthony? "She'll Know She Is Not Welcome Anywhere In Orlando"
Chris Evans Is A Big Believer In Singing In The Shower: "I Cut Loose When I'M In There"