Prince William And Kate Middleton: The Royal Lifestyle Reinvented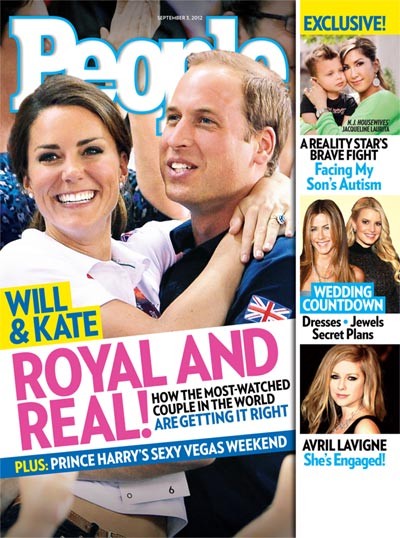 From their sweet PDA to their low-key domesticity in Wales, Prince William and Princess Kate are reinventing royal married life in surprisingly grounded – and romantic! – fashion. Whether taking part in the Diamond Jubilee (on June 5) or cheering Britain's track-cycling team on Aug. 2, William and Kate "are happy to show their emotions," says royal watcher Ingrid Seward. "They are an epitome of the times." The royal couple managed to look regal, real and romantic all in one moment – and it wasn't just for the cameras. "They are [touchy] like that in private – completely," says a friend of the couple's. "There is nothing contrived about it."

For the first time in the 1,000-plus-year history of the monarchy, Kate and William are making royal marriage look truly fun. The young royals, both 30, "project a real image that the public can connect with," says Katie Nicholl, author of The Making of a Royal Romance. "They are comfortable being spontaneous." Unlike the famously tense union between William's parents, Charles and Diana, William and Kate have built their marriage on more than a decade of friendship and trust.

More than a year into their union, the couple have struck a balance between the cozy domestic routine they so prize and the public life that comes with the crown. There's only one chef – and housekeeper – on duty at the couple's Welsh farmhouse: Kate, who cleans and whips up "recipes learned from her mother," says Nicholl. "She brings a sense of ordinariness that William always craved."

From the Queen to stepmother-in-law Camilla, Kate has managed to please some of the most intimidating relatives on earth. She's careful not to make brother-in-law Harry feel like a third wheel. At an event in June, "she deliberately held back to be with him," says Nicholl. "She is aware that, particularly in public, he needs a bit of support."

While William is a Royal Air Force search-and-rescue pilot in Anglesey, Wales, Kate enjoys her role as an officer's wife in London where she takes meetings and walks in Kensington Gardens. And then there are the dates they steal for themselves. "When you have to be in the spotlight so much, you do need to be able to disappear and just be normal," says a royal source. "That's very important to them."

More details on Will and Kate are in the 9/3/12 issue of PEOPLE, on newsstands now.


*Also In This Week's 'People'*
Exclusive: Avril Lavigne Is Engaged!
Exclusive – New Jersey Housewives' Jacqueline Laurita: Facing My Son's Autism
Shia LaBeouf On Smoking Habit: "I'll Quit When I Have Children"