Prince William And Kate Middleton: Madly In Love And Ready For Parenthood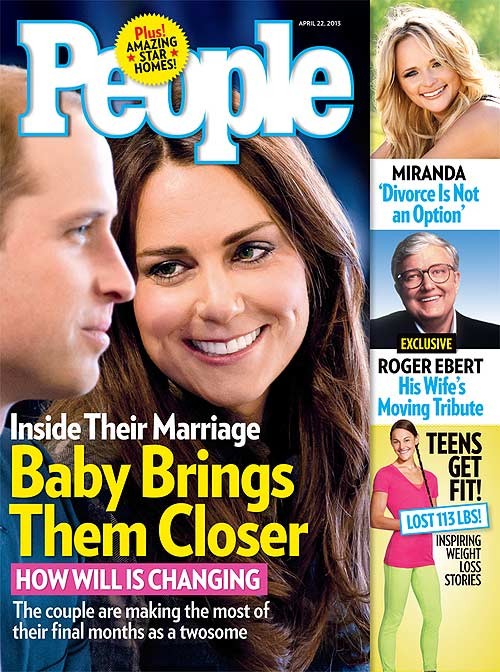 From gallant gestures and lovey-dovey looks to a life-changing decision about the Royal Air Force, this week's issue of PEOPLE goes inside the marriage of Prince William and Kate to reveal how he is pampering his princess as the couple get ready for parenthood.

A first pregnancy can put any marriage to the test – cue the nausea, stressful moments, and unforgiving deadline (ready or not…). But well into their second trimester, the royal couple are cruising to parenthood more demonstrably – and demonstratively – in love than ever. "They're much more touchy-feely than they were," observes royal photographer Mark Stewart of Will's now-automatic protective hand to Kate's back on official outings. Adds royals author Judy Wade, who has watched the couple for a decade: "They've always been close, but it is much more pronounced since she has become pregnant. There appears to be a new, deeper bond between them."

If that's not enough to make romantics swoon, then consider the prince's latest move. A Royal Air Force search-and-rescue pilot who has spoken publicly about how much he loves the job, he is widely expected to retire his wings to devote himself more fully to his royal duties, philanthropic work – and Kate. A source close to William confirms to PEOPLE that the prince will soon announce he's leaving his base in Anglesey, Wales, where he and Kate enjoyed a quiet life in a converted farmhouse with pup Lupo, but where Will had to abandon his princess for up to ten 24-hour shifts per month.

With his announcement expected in the next few weeks, William "is ready for the next step," the source says. Don't be surprised if it's another romantic getaway. Even with the pre-baby prep and royal duties, they're making the most of their still relatively carefree lives, from the February "babymoon" they took with the Middletons in Mustique to a weekend holiday in the Swiss alps in March (Kate stayed off the slopes).

For now, the parents-to-be are focused on nesting. At home in Wales, they'll curl up inside with a Scrabble game or a notepad, thinking up baby names. "We have a short list for both [boy and girl], but it's very difficult," Kate confessed to Rachel Sawyer, a manager at a Quarriers shelter where she and William had recently spent time with homeless youth. They are also busy renovating Princess Margaret's former 21-room residence at Kensington Palace in London, where they hope to move by early fall, and Anmer Hall, their country getaway on the Queen's Sandringham estate.

Though Kate, due in mid-July, told a Scottish well-wisher she hasn't gotten the nursery ready ("No, not yet. I have a lot to do"), she has taken up knitting. Kate's also expected to announce several new charities she's taking on, which means more royal outings and more opportunities for the parents-to-be to step out together, blissfully. "I've seen a lot of royal romances over the years," Wade says, "and this is one of the happiest. It's a deep, meaningful relationship. She fulfills all his dreams."


*Also In This Week's 'People'*
'People' Special Report: Childhood Obesity
Roger Ebert's Wife's Moving Tribute: Their Life Was "More Beautiful And Epic Than A Movie"
Cory Monteith: Inside His Downward Spiral
Exclusive Interview: Andrew Madoff: "I'll Never Forgive My Father"