Prince Harry's Wild Week In Las Vegas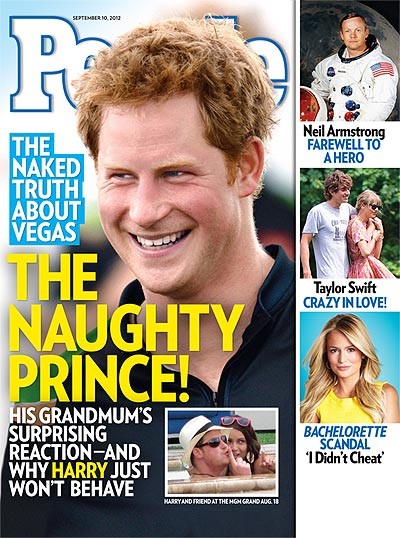 After a wild weekend in Las Vegas – and shocking naked photos – everyone's favorite bad-boy prince is still wildly popular. This week's issue of PEOPLE examines why Prince Harry, 27, won't stop partying – and what his family really thinks.

Poolside at Las Vegas's Wet Republic on August 18, the Party Prince appeared more than ready to live up to his nickname. Shirtless in tropical-themed swim trunks, Harry hung out with his posse, drank vodka and cranberry, and chatted with ladies lined up to bask in the ripped-ab presence of the third in line to the British throne. "He couldn't decide on one girl," a source tells PEOPLE. "It was like female Ping-Pong. The dude was smiling all day long."

That was just one wild chapter of what turns out to have been quite the eventful weekend for Prince Harry – as the world now knows thanks to photos, taken August 17, that show a completely nude Harry and a female guest engaged in a game of strip billiards at Steve Wynn's Encore Hotel. Amid a flurry of embarrassing headlines, he returned to England, where, a source says, he has spent time at the Queen's Balmoral estate in Scotland with his father, Prince Charles. But the Queen and the royal family have rallied behind him. "He didn't do anything unlawful," says a Palace source. "What he did was entirely his own business."

Unless more unsavory news leaks, it's likely all will be forgiven – and Harry will continue partying. "Harry is a big boy now," says Dai Davies, former head of royal protection services at the Metropolitan Police. "He knows the rules, but he thinks, 'I'm third to the throne, and I'm going to do whatever I want.'" And he'll remain a girl magnet. "He's good-looking, charming," a friend says. "But being a prince helps. Being able to bring someone to a palace rather than an apartment scores extra points."

For now Harry, who recently joined Will and Kate as an ambassador at the London Olympics, is getting on with his royal life. The next glimpse the public will get of him will be at London's Paralympics in early September – and he'll be fully clothed.


*Also In This Week's 'People'*
Emily Maynard On Bachelorette Scandal: "I Love Jef. I Am Not A Cheater"
Taylor Swift & Conor Kennedy: "She Thinks She Is In Love"
Honey Boo Boo: "I Want To… Work At Mcdonald's Where I Can Eat All The Chicken Nuggets"