Prince Harry To Climb Mount Everest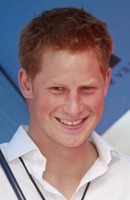 British royal Prince Harry is set to climb Mount Everest this spring as part of a mission to raise money for charity.

Harry embarked on an expedition to the North Pole last year with members of Walking With the Wounded, an organisation which helps rehabilitate injured troops.

And now the 27 year old will reteam with his mates for another gruelling journey and trek up the world's tallest mountain.

His fellow climber Mollie Hughes, 21, tells Britain's Telegraph, "He won't be doing the full climb, as it will take a long time and it requires rigorous training, so I think he'll be joining (us) at base camp."

The team is expected to begin its ascent from the South Base Camp in Nepal in May.