Preview: New FOX Comedy 'Sons Of Tucson'

Sons of Tucson is not Fox's answer to the hardcore motorcycle drama Sons of Anarchy on FX. It's an unorthodox family comedy where three boys hire a slacker (Tyler Labine) to play their guardian so that child services won't separate them. One of the boys, Matthew Levy, previewed some of the hilarity to come.
"Without giving it away, the sort of things that we get into, on their own, even if we didn't have the incredible cast we did, they are just so funny," Levy said. "The situations that we get tied up in while we're trying to evade child services and put on this façade of being a perfect family. Stuff with animals, stuff with little kids, you'll have to see but it's really funny. We deal with some pretty normal issues sometimes but they're sort of beefed up because of the atmosphere and the situation that we're in."
It's hard to tell whether the boys were better off alone or with their hired dad. "There's one point where I mistake a piece of beef jerky for a human ear. That's really how bad it gets."
Levy is a newer addition to the cast. Two of the "sons" were replaced to make sure the family seemed right. Now it's hard to imagine them with any other actors. "I always tell people that it didn't take long for us to find that bond. Off screen, we were pretty much brothers as much as we were on screen, so it made that transition easy. They're not difficult guys to get along with so it made every day really fun."
The acting bug bit Levy in 5th grade when his teacher taught the class about acting. He helped Levy get a theater audition and Levy found his lifelong profession, now that Levy is a 16-year-old veteran. "That was the first time that I really saw acting and I sat down and said this is the thing that's going to get me what I want in life and this is going to help me achieve goals. This is what I want to do right now."
Sons of Tucson premieres March 14 on Fox.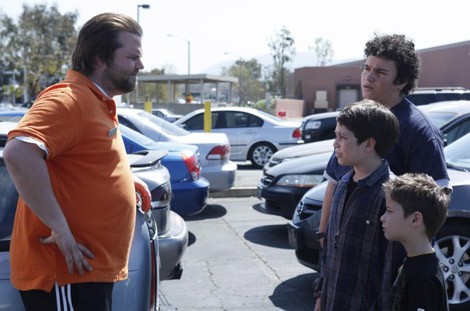 Story/Interview by Fred Topel
Starpulse contributing writer Follow more of Fred Topel's Hollywood observations on Twitter