'Pretty Little Liars' Star Troian Bellisario Returns In Season 2 Of WIGS Series 'Lauren'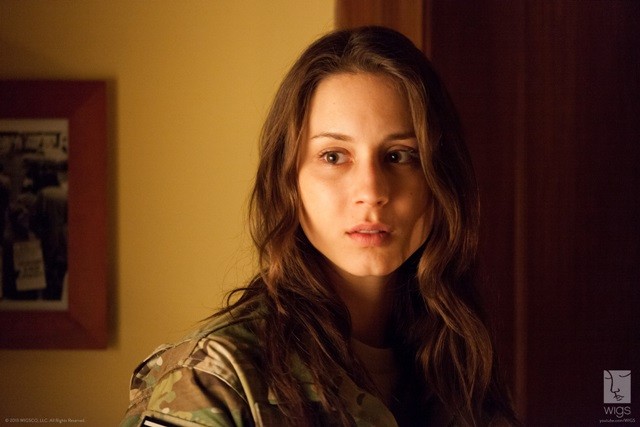 Following the return of Julia Stiles in Blue, another WIGS series is making its well-deserved comeback today. Season two of Lauren sees the title character, Sergeant Lauren Weil, played by Pretty Little Liars star Troian Bellisario, trying to move forward with her life after reporting her own rape in season one. Meanwhile, Lauren's commanding officer, Major Jo Stone (Jennifer Beals, The Chicago Code) has her own tribulations to deal with. BFTV spoke yesterday with Troian about this new chapter in Lauren's story, and what it was like for her to step back into her character's life.
"I was excited but I was mostly pretty frightened," she confided. "Just because I shot [season one] over a year before we got the second season. Although it was rewarding, it was a very difficult process. And then when they gave me the script, the script was twelve episodes. It was 80 something pages - almost a feature length film. I was like 'Oh man, this is going to be a roller coaster.' But I also knew that there was just no way that I could say no."
So where does Lauren's life go from here? "What's exciting about this next season, you get to see Lauren's world fleshed out more clearly," Troian told us. "You get to see Lauren's relationship with her daughter, Lauren's relationship with her mother, hints into her husband who's passed away. You get more context for Lauren's struggle, and more context for what Jo Stone's going through as she's trying to keep Lauren quiet or maybe even help her. We intentionally left it open-ended at the end of last season.
"What usually happens in these cases, when justice isn't served, things can continue and the victims can be victimized over and over again," she added. "The beautiful thing about Lauren, she's such a strong woman and she's not going to allow that to happen."
This is the perfect time and place for you to jump aboard if you somehow haven't discovered the phenomenon that is WIGS; Lauren is the web channel's strongest offering, with the moving performances by Troian and Jennifer Beals, as well as its tasteful handling of a sensitive issue. For those who missed season one, it's available on YouTube in its entirety. Troian would also give this piece of advice to first-time viewers: "Have patience and keep your eyes and ears open," she said. "These episodes are tiny but they are filled with information. To get the whole complicated picture...you have to listen to everything."
The second time around, the series is even better than before. Season two of Lauren adds several new cast members to the mix, including Bradley Whitford (The West Wing), Mykelti Williamson (Justified), and Sarah Jones (Vegas), who brings over her character from her own WIGS series, Kendra. Working with Whitford was a particular point of pride for Troian. "I'm such a huge fan of Bradley Whitford. When he walked into the table read I was pretty starstruck," she said with a laugh. "I think my scenes with him, he's just so good and easy that you can't help but discover new things and be more present in the moment."
Outside of the finished product, however, the series has also given Troian the ability to be part of something bigger than just entertainment. Lauren has become associated with the Service Women's Action Network (SWAN), an organization which works on behalf of women in the military in a number of ways, including laboring to stop sexual violence. Lauren isn't just gripping entertainment; it's art that has also served a constructive purpose, and that's significant to Troian as well.
"I'm very proud to have been a part of Lauren and to tell this story," reflected the actress. "The stories that these women have and the journey that they're on, just to be a part of it is something that I'm so proud of, as an actress and as a human being." For more information on SWAN, you can visit their official website or watch this behind-the-scenes video featuring Jennifer Beals.
Considering the strength of its actresses and the fact that it's also changing the way we think about a serious issue, this is the kind of project worth keeping around. Might we see a season three of Lauren after these next twelve episodes? "They haven't talked to me about it," said Troian, "but definitely, I would say, as I did with the first season, there is a little bit of wiggle room at the end."
The second season of Lauren premieres today with four all-new episodes on the WIGS YouTube channel (youtube.com/wigs). New episodes will be released in batches of four on May 10th and May 17th. The trailer for season two is below. You can also keep up with Troian on Twitter (@sleepinthegardn).
(c)2013 Brittany Frederick. Appears at Starpulse with permission. All rights reserved. No reproduction permitted. Visit my official website and follow me on Twitter at @tvbrittanyf.