'Pretty Little Liars' Season 4 Premiere Recap: [SPOILER] What's In The Trunk?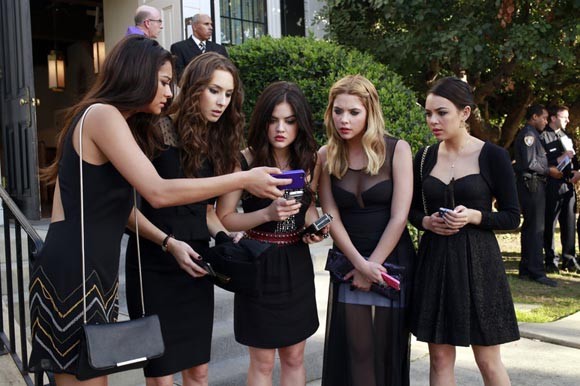 The much anticipated season 4 of Pretty Little Liars premiered last night and the season premiere episode left us with answers to all of our questions, with the usual add on of new questions.
Let's rewind to the end of season 3. Spencer tricked Toby into meeting up with her, where they both decided to reunite in efforts to catch Red Coat in action. Spencer pretended to be part of the "A" team so that she could plan a fake lodge party in hopes that Mona would come and bring along "A" with her.  Hanna, Aria and Emily were all in on her plan, after they confronted Spencer about her recent breakdowns. While the girls tried to plan out the details of the night, not seeing a light at the end of the tunnel to their relationship, Aria told Ezra to take the teaching job because things would not work out for them.
The night of the fake party, Spencer and Toby trapped Hanna, Emily, Aria and Mona in the lodge while they looked out for Red Coat. As Mona was getting grilled by the girls, someone set fire to the lodge. The girls got caught in the smoke, but rescued out by Red Coat herself, whom Mona, Spencer and Hanna claimed to be Alison. The scene helped reunite Mona with the Liars, after she felt betrayal from the "A" team. They all hitched a ride back together and on their way, they spotted Wilden's car outside the Rosewood Church. The episode ended at Mona and the Liars receiving a text from "A" right before they discovered something shocking in the trunk of Wilden's car.
Much to the viewer's dismay, thinking a dead body would be found, season 4 opens with the girls finding a dead pig in the trunk of Wilden's car. Not wanting to get caught at the scene of the crime, the Liars escape to Spencer's house with Mona. Before they do, Mona takes a minute to grab the camera chip from Wilden's car so that Hanna's mom's arrest footage doesn't end up in the wrong hands. The Liars then grill Mona at Spencer's house, where Mona reveals secrets about the people closest to the Liars and the "A" team.
Morning arrives and Hanna, still not being able to trust Mona, asks Mona for the chip but Mona refuses, saying that she needs it to catch Red Coat. Mona then, in her sneaky way, makes a deal with the Liars to team up and they in return ask her to tell them everything she knows about them. For that reveal, she tells them come to her trailer (the lair) and on their way there they make the shocking discovery we have been waiting for. They spot Wilden's dead body at the scene of his car. The area is bombarded by police and they figure that "A" did this to set them up.
The girls dig through Mona's lair and learn that the there were two Queen of Hearts on the Halloween train. One was Wilden and the other was Spencer's sister. Before Mona can prove it, the video footage gets deleted after someone hacks into her computer. They then hear Alison's name being called outside, where they find 5 little girls holding 5 dolls, all similar to them. The little girls say the dolls were given to them by Alison. While the Liars and Mona try to make sense of the situation, Toby makes a discovery of his own. Still at the lodge, Toby spots the red coat in the rubble. We assume that Toby went to retrieve it before the scene change (fresh faces, new clothing,) but later we find out that he went back for it with Spencer, and they were too late. One thing they do get out of the trip back to the lodge was a glimpse at who could be "A."
Back at Emily's home, Emily and Hanna are greeted by Emily's mother. She informs them that Alison's mom has returned home. Emily goes to visit her to drop of a welcome basket her mom gave. Mrs. Dilaurentis asks Emily to help her move in Alison's boxes to Alison's room. Emily calls Hanna to let her know that she finds it off that Mrs. Dilaurentis is building a shrine to Alison. Hanna shortens the conversation because she is busy helping Mona hide her trailer in a secluded farm.
Meanwhile, Ezra and Aria run into each other at the coffee shop. Ezra informs her that he has been offered a job in Rosewood, which she can't be happy about because it will make it hard for her to see him often. He then awkwardly brings up that he is okay with her seeing other people. She finds this un-conversational and departs. As they grow further apart, Spencer and Toby find themselves growing closer by calling each other "boyfriend" and "girlfriend." To bring down their happiness, "A" sends Toby a text with a threat of his mother. In the world of unbalanced relationships, Hanna and Mona also find common ground and set up a shopping date.
We get a shocker when Aria is called into the Vice Principal's office. She thinks it is called upon after Mr. Hackett catches Aria staring at Ezra. She then goes into the office where Mr. Hackett shows her pictures of Ezra and her hooking up and he says that it's a felony and that Mr. Fitz will have to do jail time. She runs down to find Ezra in handcuffs, walking out with the police. We are then transformed back from her dream world, where Mr. Hackett simply calls her into his office to grab a packet of take-home papers for her sick mom.
Just as Emily and Paige finish a good conversation, where she agrees to go to Sanford with Paige, Jenna catches her outside. Jenna stops by to tell Emily to pass along a message to Toby, saying she "never meant to hurt him." Emily notices a burn mark on Jenna's hand. Spencer is also caught off guard when she sees Alison's mom wearing a red coat. She immediately receives an "A" text claiming the Liars' secrets can be found in Wilden's casket.
The third day of the episode arrives, with the morning of Wilden's funeral. By then, Spencer has already informed the girls of the text and the Liars split up to find the casket and snoop for the secrets. Spencer finds herself at the casket with Mona, who got the same "A" text. They both open the casket after they hear a cell phone ringing in it. The cell phone is discovered to be Hanna's Mom's after they dial the number saved as "Kisses" and Hanna picks up assuming it is her mom.
Taking a moment away from the funeral, we find Toby driving Mona's lair. He has been bribed by "A" to return it in exchange for information regarding his mother's sickness.
Back at the funeral, the Liars wonder who the women is in the black veil, at the funeral. At the end of the episode they see her getting into a car after the funeral, but not leaving any clues as to who she was. An officer walks up to the Liars, Officer Holbrook, and informs them of his investigation into Garrett and Wilden's deaths.
Turns out the woman in the black veil might have been "A" and she sends out her last text claiming she will bury the Liars and Mona with the truth. The text also had a video attachment that catches the girls at the scene of Wilden's car before it was discovered.