'Pretty Little Liars' S4, E9 Recap: [SPOILER] Jenna Is Unwanted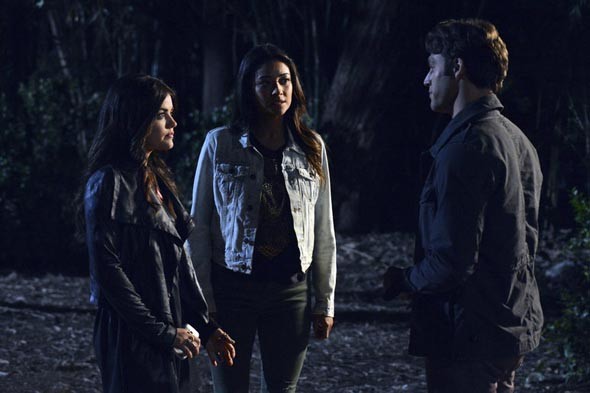 The episode of 'Pretty Little Liars' had a mellow beginning with the focus being on Ashley Marin and her trial details. The trial is still set to happen, seeing as there is no evidence in Mona's statement, but Marin is released on bail. The bad news is that no one knows what may be the result of Marin's case. She could still be found guilty if evidence points towards her. Till then, she is on house arrest. Hanna pleased and less emotional finds comfort in her mom's return home and doesn't leave her side. Pastor Ted shows up as well to comfort the Marin girls.
As Pastor Ted and Ashley reunite, Emily and Paige's love story may be ending. Paige sets Emily up with a meeting to meet a potential swim trainer. While Emily is at the meeting, Paige gathers everyone for a surprise birthday party at her home for Emily. Emily is shocked when she finds out that Paige hadn't told the swim trainer of her injury and her situation. She comes over to confront Paige but is sidetracked by the party. They then have a private conversation in which they decide that it is best for them to see things realistically about their relationship ending next year.
After the Emily's cake cutting, Aria and Emily go outside to look for Spencer. She had gone outside to wait on Jenna and Shana. When looking for her, Emily spots a body in the lake and goes in assuming it was Spencer's body. The body turns out to be Jenna's, who was hit in the head and left to drown in the lake. She is rushed to the hospital but is left unconscious at the end of the episode. Could Spencer have committed the crime? No one knows, and she comes off as being distressed about it. Spencer goes to the hospital to question Shana about Alison and the potential "A" that might have hit Jenna. Shana says the only person who could have done it had to have been CeCe Drake.
As in all episodes, Aria's love triangle is never ending. As Ezra is finding a way to fight for his rights to keep his son in Rosewood, Aria is finding safety in Jake, the kind of safe feeling she felt when she was in Ezra. Both Ezra and Aria are embarking on new life territories and without each other.
As for Mona, looks like she found a way back to Radley. But wait, she wants to be there right? That face when she stepped in the room was priceless. WHAT IS MONA UP TO NOW!?
So, what do I think?
First of all, it's sad day because I really want Mr. Fitz and Aria to get back together. Actually, I just want Mr. Fitz to find the love of his life because he is the only form of perfect on the show. But I suspect a long separation for the two. They are too focused on their own selfish needs. Now to what is more important, I have a huge feeling CeCe Drake is going to make an appearance soon, if not before the season ends. The girl in the red coat and blonde hair has to be her because "A" can only be one that wears all black. I also think CeCe is not part of the "A" team and is on a mission to cover up her mess on her own.
Next, does Jake and Pastor Ted not seem like they are hiding something? I have been watching this show too long to know that no one can be as perfect as Mr. Fitz. They have to be part of the mystery, somehow. The show also ends with "A" sending a package off to Toby. I see Toby finding out more to his mother's death then he can handle.