'Pretty Little Liars' S4, E5 Recap: [SPOILER] Distraught Hanna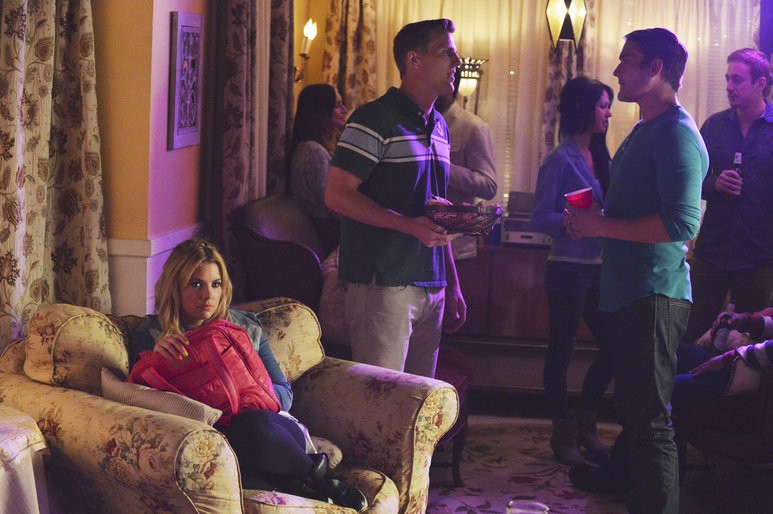 In last weeks Pretty Little Liars ending, Hanna was ready to admit that her mother may have been Wilden's killer. Looks like that was a tip to this week's topic of interest—Hanna.
If things weren't already messy for the Marin family, the situation just got messier. Ashley seeks counsel from Spencer's mom, Veronica . Not admitting she is guilty of Wilden's murder, Ashley asks Veronica for help with her side of the story. The more Ashley is open about her involvement in Wilden's case, the more Hanna is going beyond her means to keep her mother's story under wrapped. While snooping around their home, Hanna comes across a bag in her mother's locked closet. She finds, what could be the murder weapon, the gun. Not knowing what to do with it, she uses the excuse to visit college campuses with Spencer and Emily so that she can get rid of it far from Rosewood.
Veronica hires a mentor to help Spencer rebrand herself for backup colleges after her rejection letter from UPenn. Emily, having the same issue about what school she can get into (with her dislocated shoulder,) mooches of Spencer's time with her mentor. Using the mentor to her advantage, Spencer advices that she would like to visit Cicero College, the location of the number Tippy (the bird) sang frequently. While she spends her time probing around campus, Emily uses the mentor to help guide her into Cicero.
Spencer finds that the number came from Greek row, and her and Emily venture out at night to find the exact location. Of course they happen to stumble upon the right door, the Gamma Z house. While Emily spends time getting information on sorority scholarships, Spencer accidently finds a hidden room, in which she finds the phone to the mystery number. The room may be connected to an old house mother, whom Emily gets information on but hasn't shared it with the liars yet. While both Spencer and Emily be selfish of their own means, Hanna gets to Cicero and locates Spencer before she gets rid of the gun. She tells Spencer of her plans, who informs Hanna that giving the gun back to her father may be the right thing to do. Hanna loses her patience and goes out into the woods to bury the gun. Not much of a surprise, "A" uses her mischief and calls the police of Hanna who gets caught in the act. She then gets arrested.
Aria (the underdog of this episode) spends her time with her family, making sure they are safe from "A's" harm. She decides to focus on getting her mom, Ella, out of town after "A" plants bees in Ella's car. This episode also was the return of Aria's brother, Mike.
So, what do I think?
Short and sweet, I think this episode was very juicy. I can see that a new character storyline is coming in the forthcoming episodes, and that is bound to create a buzz in the fans. Sure, this episode was more focused on Hanna's story, but the previews for the next episode prove that each character will have their moment. I'm looking forward to next week and more information on the Gamma Z house mother, hence the reason why I give this episode an A.
Two thoughts: A. Will Hanna go behind bars? B. The Marin family sure does eat a lot of take out. Have you noticed?