'Pretty Little Liars' S4, E3 Recap: [SPOILER] The Return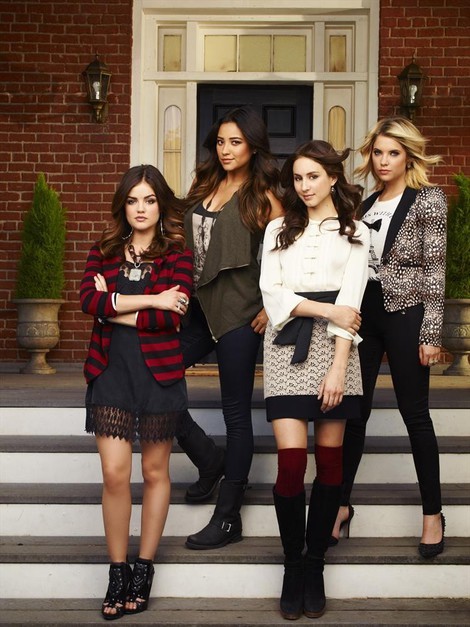 Just when I had started wondering about the characters that disappeared, this episode surprised me by bringing some of Rosewood's finest back.
First, Aria's mom, Ella (Holly Marie Combs), is the center of attention in the episode opener. Still seeing coffee shop owner, Zach, Ella is asked to escape to Vienna with Zach for "less than a year." She contemplates if leaving Aria would be a good reason. Aria, who finds herself jealous of her mom's love life, sees this as a good opportunity for her mom to continue to be happy and gives Ella her blessing to go.
My biggest shocker for a return was the return of Melissa Hastings. The viewers have always known that Melissa was part of something big with the "A" team, but did we expect her to come back this early in the season? Seeming suspicious, Melissa is her normal (fake happy) self, roaming around town. She runs into Spencer at the coffee shop and hints at a threat towards the liars by informing Spencer that it would be best if both she and Spencer left town. She later runs into Hanna at the police station, which further draws attention to her. To top it off, the girls find a mask in Alison's box of belongings. They discover that under the mask is a face sculpture of Alison's face. They take the mask to the curator where Hanna finds a face mask of Melissa. Could Alison and Melissa have gone there together? The only way they could get, what was very limited, information from the curator was that he would spill if Emily let him make a face mask of her face. [I see this mask coming back to haunt the liars in the future.]
Back to Aria. Though she is jealous of her mom, the viewers find things heating up between Aria and her martial arts instructor Jake (Ryan Guzman). She drops a hint on their movie date about not having much in common with Jake. [We all know Aria is still in love with Fitz.] Jake seems like he'd be good for Aria, telling her that sometimes opposites attract and make things more exciting.
Both Toby and Hanna discover new news about their mothers. First, Hanna snoops around her mom, Ashley (Laura Leighton), to find clues on her whereabouts recently. Thinking her mom has something to do with Wilden's death; Hanna confronts Ashley and catches her lying. She confides in Caleb (Tyler Blackburn), who, scared for Hanna, confides in Hanna's dad. Hanna's dad says he can't do much but all that he can say is that his gun is missing and hints that Ashley might have taken it.
Toby and Spencer sneak into Radley where they conclude that, though previously reported that she committed suicide, Toby's mom might have been pushed out of the window and not willingly had jumped. Could this suicide/no suicide have been the start of "A's" shenanigans?
The biggest highlight of the episode was the confrontation between Emily and her mother. Emily's mom, Pam (Nia Peeples) discovers that her prescription meds are missing and that Emily has taken them. "A" calls family services on Pam, who may get taken away from Emily. The episode ended with Pam informing Emily that her Dad was called to and that he is being forced to come home.
So, what do I think?
There wasn't much answered in this episode, nor much excitement. I do see things moving forward with the clues and the hints, but nothing too big that we haven't figured out before. The biggest finding in this episode was the placement of Melissa with Alison. But we already knew their connection from before so it wasn't much of a surprise. I am thrilled by Aria's new romance though. It seems promising, and who knows maybe Jake will turn out to be another Caleb. I give this episode a B- for the reason that there material was there but not the excitement. Also, where is Mona and what is she up to?