President Snow Addresses The Masses In First Teaser Trailer For 'The Hunger Games: Mockingjay - Part 1'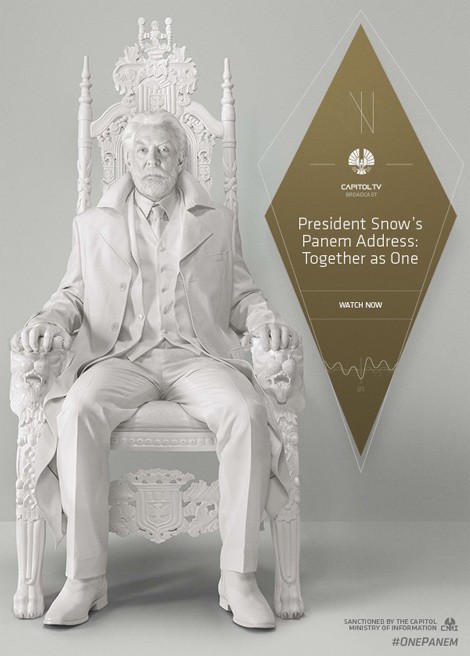 Lionsgate has released the first teaser trailer for "The Hunger Games: Mockinjay - Part 1," and it's not your traditional movie sneak peek.
The one minute and 13-second clip features Donald Sutherland as President Snow dressed all in white.  He addresses the citizens of Panem, telling them: "Since the dark days, our great nation has known only peace. Ours is an elegant system, percieved to nourish and protect. Your district is the body. The Capitol, the beating heart. Your hard work feeds us, and in return we feed and protect you.
"If you resist the system, you starve yourself. If you fight against it, it is you who will bleed. I know you will stand with me, with us, all of us, together as one.
"Panem today. Panem tomorrow. Panem forever."
The words unity, prosperity, and sacrifice also flash across the screen as the camera zooms out and Peeta Mellark (Josh Hutcherson) is pictured standing beside the president.
The third film in "The Hunger Games" franchise centers on Katniss Everdeen (Jennifer Lawrence), who becomes the reluctant face of the rebellion as she goes up against President Snow.
Her Hunger Games friend Peeta winds up being brainwashed into trying to kill her, and Katniss worries that her new assignment, a foray deep into the heart of the Capitol, is intended to turn her the martyr the revolutionary leader craves.
"The Hunger Games: Mockingjay - Part 1" opens in theaters on Nov. 21.