Prepare For Blast-Off! 'Meet Dave' Lands On DVD & Blu-ray Nov. 25

Experience what it's like to be human all over again as the out-of-this-world comedy
Meet Dave
debuts on DVD and Blu-ray Disc (BD) November 25 from Twentieth Century Fox Home Entertainment. Academy Award-nominee
Eddie Murphy
(
Beverly Hills Cop
,
Dr. Dolittle
) stars in this hysterical sci-fi adventure as an one-inch alien captain in command of a massive six-foot spaceship . . . a spaceship that is an exact replica of Dave. On a mission to search for an orb that went off course in Manhattan, Dave and his miniature crew must make the ship look and act like Earthlings.
As Dave and his fellow aliens attempt to assimilate to life on earth, hilarity follows as he learns the intricacies involved in crossing the street, greeting somebody for the first time and even participating in an American staple – a hot dog eating contest! Co-starring
Elizabeth Banks
(
Definitely, Maybe
),
Gabrielle Union
(
Bring It On
),
Scott Caan
(
Ocean's 11
),
Ed Helms
(
Evan Almighty
,
The Office
) and
Judah Friedlander
(
30 Rock
),
Meet Dave
is a laugh-out-loud, fish-out-of-water comedy for the whole family. With fun and zany bonus features including a gag reel and "crew confessions."
There's something that makes Dave stand out from everyone else in New York City. It's that he's an alien! More accurately, he's an alien ship, on a mission to Earth to save his home planet. Torn between the voices in his head – a tiny alien crew led by a high-strung, miniature version of himself – and the world around him, Dave struggles to appear normal. But when he falls for an Earth woman, the consequences are hilarious in this "cleverly conceived…comedy" with "plenty of laughs for all ages." (
Urban Cinefile
)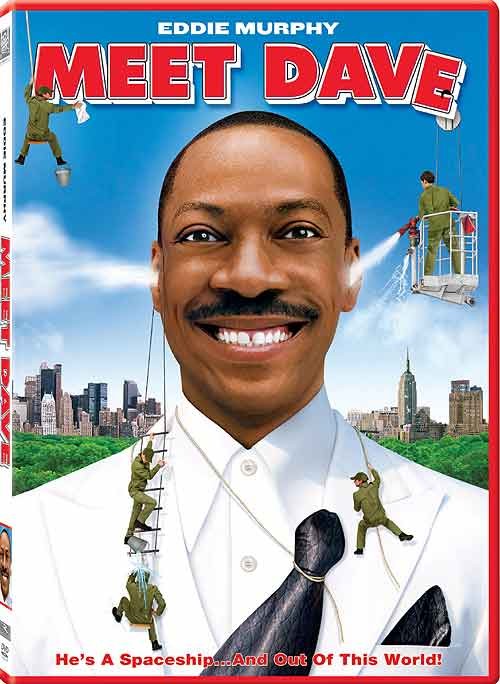 DVD Specs:
Meet Dave
is presented in full screen and widescreen (1.85:1 aspect ratio) on a dual Single DVD with English, Spanish and French 5.1 Dolby Surround with English and Spanish subtitles. Bonus features include:
• Gag Reel
• Crew Confessions
Blu-ray Disc Specs:
The
Meet Dave
BD release will be authored in BD-Java with AVC (MPEG 4) compression on a single-layer 25 GB disc presented in widescreen format (1.85:1 aspect ratio) with English 5.1 DTS HD Lossless Audio and Spanish/French 5.1 Dolby Digital audio with English & Spanish subtitles. The
Meet Dave
BD includes all of the above standard-def DVD bonus features, plus the following special features:
• Crew Profiles
• Alternate Ending
• The Making Of
Meet Dave
Featurette
• Fox Movie Channel Presents . . . Life After Film School With Director
Brian Robbins
• Fox Movie Channel Presents . . . Making A Scene
• Fox Movie Channel Presents . . . World Premiere
• Deleted Scenes
-Did You See That
-Art On The Floor & Making Out In The Elevator
-Arrest This Traitor
-And Another Thing Number 4