Premiere Recap: 'How I Met Your Mother' Returns For Final Season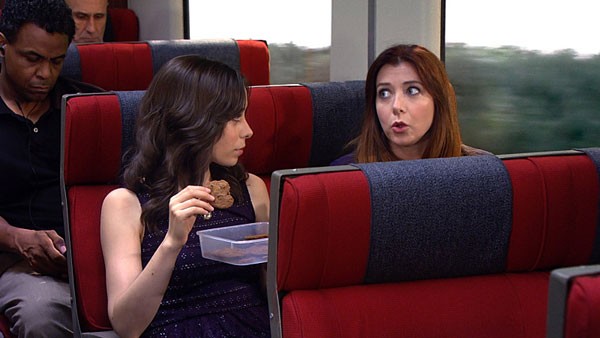 How I Met Your Mother premiered its final season last night.  I was saying the same thing a year ago, but then CBS negotiated for a ninth and final season to be made.  Season 9 will be the story of the weekend of Barney and Robin's wedding, which of course will culminate in Ted finally meeting the mother.  Ted is still a couple days away from meeting her, but we got to see her for the first time in the final scene of season eight.  She is the bass player in the band for the wedding, and is played by Cristin Milioti. 
Season nine picks up at 11am on Friday morning, 55 hours before the wedding.  Ted and Lily are driving out to the Hamptons.  Lily just wants to get out there as fast as possible, but Ted is trying to turn it into some sort of legendary road trip.  He annoys her so much that Lily asks to instead just be dropped off at the train station. 
You may remember that the aforementioned final scene from season 8 was Cristin Milioti buying a train ticket out to Farhampton for the wedding.  Well it turns out Lily buys a ticket for the same train, and she would end up meeting Ted's future wife two days before he does.  Cristin Milioti's character, which I will simply refer to as "the mother," offers Lily a cookie because she looks stressed out.  Lily tells the mother about the whole roadtrip going awry.  The mother says that is pretty crazy, and suggests that it was possible that Ted was trying to get rid of her on purpose. 
Meanwhile, Marshall is trying to get back to New York from Minnesota.  Marshall was just offered a judge seat in New York a day earlier, and he decided to take it.  He still hasn't told Lily, who was preparing for the two of them to spend a year in Italy while Lily worked as an art consultant.  When he sees that his mom posted a picture of Marshall pretending to be a judge with Marvin, Marshall freaks out fearing that Lily will see it before he can talk to her.  Marshall ends up getting thrown off the plane because he won't turn off his phone while he tries to delete the picture.  It turns out a storm is rolling in, and all other flights to New York are canceled.  When Marshall gets to the car rental desk, he is given the last car left in the lot, a "2006 Monstrosity," and there is no car seat for Marvin.  The woman who was sitting next to Marshall on the flight offers to go take the car to buy a car seat and come back to pick them up.  Marshall may have been too trusting, however, as they wait and wait for her to return.
Barney and Robin are headed out to the Hamptons in a limo driven by none other than Ranjit.  Actor Marshall Manesh has now reprised the role in 15 episodes going all the way back to being the taxi driver in the pilot.  Barney and Robin begin discussing relatives they might see at the reception, when they both mention a crazy cousin Mitch.  Could they be somehow related?
Why would Ted try to ditch Lily?  It turns out that the locket that Ted was going to give to Robin was not in the pencil box as Lily said it was.  In a flashback to Ted and Lily at the bar, Lily tells Ted that it is a good thing; that Ted was clinging on to some hope that he could win Robin back with the locket.  Ted says that there is a small chance that Stella has the locket, but Stella said that Ted would have to fly out to L.A. and search through a storage locker to try to find it.  Lily makes Ted promise her that he is not about to do that.  Did Ted go to find the locket without telling Lily?  Lily arrives at the Farhampton Inn just in time to see Ted handing a gift to Robin, so she tackles Ted.  In fact, the gift Ted was handing Robin was a picture of the five of them at the bar, the same one that is in the opening credits of every episode.
Barney has been worried about something he calls, "The Stinson Curse."  The Curse is something that prevents all Stinsons from having long lasting relationships.  Luckily, Robin finds out that Cousin Mitch was adopted, and that they are not related.  Barney has pointed out that his brother James may have broken the curse, as he and his partner Tom were now married for a year.  They get thrown another curveball when James announces that he and Tom are getting divorced, and Tom will not be coming to the wedding.  Robin sees a look on Barney's face and worries that he is getting freaked out about the Stinson Curse.  Actually, Barney had a surprise planned for Tom and James, and now it will go to waste. 
Just when Marshall was about to give up hope, Daphne returns to pick up him and Marvin.  She says that she gets to choose the music and that Marshall has to fill up the gas guzzler.  Marshall agrees to the terms, and the set off for New York.
Ted finds himself bummed out about being a single person at a romantic Inn on the weekend of his friends' wedding.  He sits alone at a table, and then it flashes forward to a year in the future.  Ted is sitting at the same table with the mother.  In between some good natured ribbing and flirting, he says, "You know, what? It's funny, a year ago almost to the minute I was sitting at this table in that very seat.  I made a promise to myself that I would come back here in a year, and that I would bring you."  "But exactly one year ago, you hadn't met me."  "But I knew that I would," he replies. 
It was fun to see some interaction between Ted and the mother (who still doesn't have a name by the way).  I wasn't sure if we'd get to see them interact until he met her on the train platform.  The back and forth was really perfect and shows how great they are together, or how great they will be when Ted finally meets her.  A lot happened in this full hour premiere, and it will probably take another watch for everything to really sink in.  It definitely wasn't the funniest HIMYM episode, but I think it was pretty well put together given how much they had to cover in the episode.  Sherri Shepherd was very good as the passenger next to Marshall that will now be driving out to New York with him.  I liked getting to see Ranjit and James (played by Wayne Brady) again.  It will certainly be interesting to see how one weekend will encompass an entire season of the show.  Will it feel dragged out, or do show creators Craig Thomas and Carter Bays have enough story here to keep us captivated?  I certainly hope that it is the latter.
The legend continues Mondays at 8/7c on CBS.