Pregnant Supermodel Alessandra Ambrosio Goes Nude For Vivara Jewelry Ad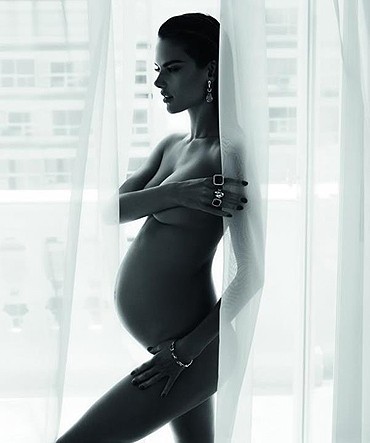 Expecting mother Alessandra Ambrosio has shed her clothes in a new ad for Brazilian jewelry company Vivara.

The heavily pregnant Victoria's Secret model, who is expecting her second child in June, isn't shy when it comes to flaunting her baby bump in a pose that's very similar to Jessica Simpson's recent cover shot for ELLE magazine.

The two stars aren't the first to strip off while pregnant - actress Demi Moore started the trend in her iconic 1991 cover shot for Vanity Fair magazine, and since then several other celebrity moms-to-be have followed suit, such as Christina Aguilera, Brooke Shields, and Myleene Klass, to name a few.

Alessandra posted the image to her Facebook page on Sunday with the simple message "VIVARA - PHOTO BY MERT MARCUS ART GB65", crediting photographer Mert Marcus with the shot.

Alessandra turned 31 on April 11th, and posted a pic of herself pregnant and in a bikini last week, thanking fans for the birthday wishes.

"Thank u all for the wonderful birthday wishes!!!" She wrote. "Have a great weekend everybody!!!"

The model and her fiance Jamie Mazur revealed that they're expecting a boy earlier this month.

"I have wanted a boy for a long time. I actually thought my first baby was going to be a boy, but then, of course, (I) was very happy to get a girl. But now I am getting a boy as well, it's absolutely perfect. It's the best news," she told E! News.

Alessandra and Jamie had their first child, daughter Anja, in August 2008.