Pregnant Snooki Takes A Digger In Platform Sandals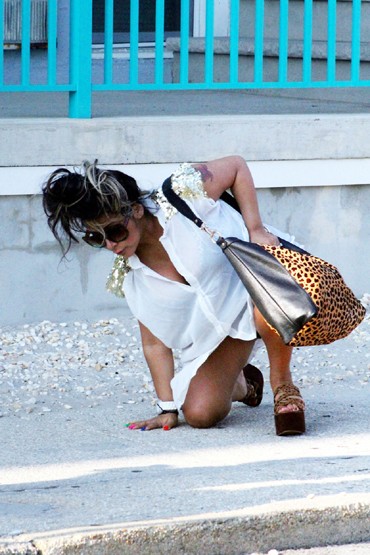 Reality star Nicole "Snooki" Polizzi isn't letting her pregnancy interfere with her fashion choices.Snooki is known for wearing outrageous footwear and high heels. However, her chunky sandals nearly got her hurt in Seaside Heights, New Jersey, on Thursday.
The "Jersey Shore" guidette was strolling down the street wearing thick black and leopard-print flip flops when she stumbled forward and landed on her knee.
She didn't appear too phased by the incident, and after examining her leg she continued on her way. She is expecting a boy with fiance Jiovanni LaValle later this year.
Although she is hesitant to give up her favorite ground grippers, she no longer goes tanning. She is willing to sacrifice for her baby to be.
But is the pregnant star taking a risk by wearing such unreliable footwear? What do you think?