Predictions Favor 'Despicable Me 2' Over 'The Lone Ranger' This Holiday Weekend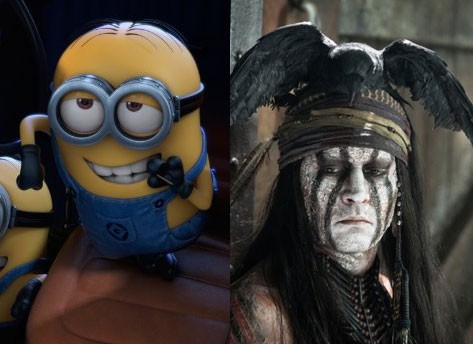 Bad news continues to mount for "The Lone Ranger" as overseas box office numbers and early North American data show "Despicable Me 2" is out pacing the Disney western/action production.
Critics continue to blast "The Lone Ranger" in their appraisal of the film. Rotten Tomatoes at the moment shows negative reviews in at 76% out of 116 reviews so far.
"I mean, no wonder Depp's in disguise. No wonder Hammer wears a mask. Wouldn't you?" said Stephen Whitty of Newark Star-Ledger. "The Lone Ranger is a pounding headache of a movie - loud, dumb, overlong and pointless" reported Tom Long of Detroit News.
Many are predicting that Disney will struggle to turn a profit from the $225 million dollar production. Over the long 4th of July holiday, Boxoffice.com has predicted it to make only $47 million in its first five days - putting it in possible "John Carter" flop proportions, which Disney suffered a $200 million dollar loss in 2012.
In early showings in North America last night, Boxoffice.com also reported "Despicable Me 2 easily trumped the $2.6 million haul that Monsters University raked in from Thursday previews. That bodes well for DM2 considering that Monsters University tallied a healthy $82.4 million during its debut frame." They also predict it could bring in some $130 million over its first five days.
Other signs that "Despicable Me 2" should set the pace in North American this weekend is that it finished No. 1 in the U.K., with earnings of $22.9 million. Universal Studios has never had a No. 1 film in the U.K. before this film.
DM2 has already taken in $50 million in its debut overseas, finishing 4th overall internationally over the weekend. A fourth place finish doesn't sound that great, but considering "Man of Steel," "World War Z," and "Monsters University" are playing in many more countries and territories, that number is impressive.
Predictions aside, we'll have to wait and see how things shake out over this long four-day holiday weekend as the two films go head-to-head. What's your call?