Power and Grace: Getting to Know 'Scandal' First Lady Bellamy Young
What is it like for Young to portray the most powerful woman in the United States? "It's a lot of fun to just say to people, proudly, 'I get to play the First Lady.' It's just fun to say," she explained with a laugh.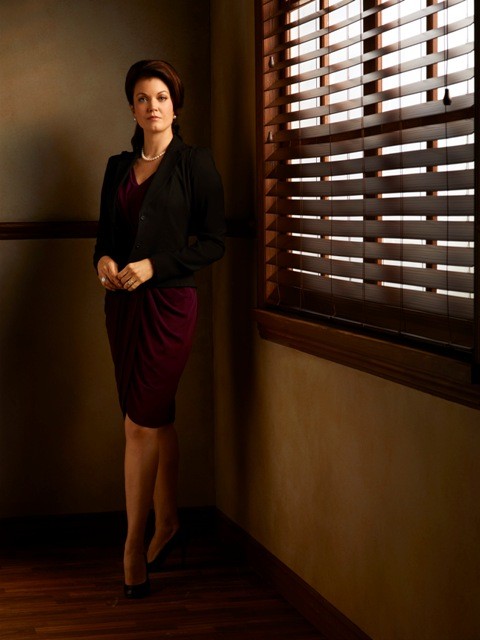 "But then to get to play a woman who is so fully realized in so many directions...she is flawed and driven and loving and loyal and backstabbing. She's so many things. It sort of blows my mind, every script we get. Each script is a revelation. She's always up to something."
So far in season two, 'something' has included Mellie referring to her unborn child as 'America's baby,' publicly forcing her husband's political hand in the case of a murdered teenage girl, and warning that she'll kill him if he takes up with Olivia again. She is not a quiet character, even if sometimes she looks a little unhinged.
"You look forward to it because I would never pull that stuff in my real life," explained Young about Mellie's more intense moments. "It's sort of hilarious fun to live for seventeen hours a day as this sort of 'my way or the highway' kind of woman."
Scandal is well known for its plot twists, like those secret meetings or the real identity of Quinn Perkins, and Young enjoys being kept guessing. "I love being surprised," she said. "I don't have the gift of a writer's mind; I can't craft story like our amazing team of writers can.
"Every time we get a script we're on email or text messaging," she continued. "It's such a giant gift in our day. We have table reads that are like parties. And on Thursday nights we tweet the shows so we sort of get to relive them. You get to sort of experience it again. It's a rare gift to get words this good."
Given the show's many secrets, there's very little she can say about what's ahead, but she does hint that there's another flashback episode on the way in season two. "I am so excited about that episode," she said. "Everything that's happening in the present becomes so much more resonant."
In addition to her work on Scandal, Young currently has a recurring role as Beth Clemmons, the love interest of Aaron Hotchner (Thomas Gibson) on CBS' hit series Criminal Minds, but for those looking to check out even more of her resume, "You can see me in a variety of things," she explained. "I did love Dirty Sexy Money quite a lot. I loved my tenure at Scrubs quite a lot. ER might have been my favorite guest star thing. We Were Soldiers meant a lot to me. I got to meet Catherine Metsker, who's my character in the movie." In addition to acting, she also executive produced the David Arquette film The Cottage.
If you still don't believe she's definitely not her character, Young also takes some time to talk about helping those in need. "I'd just say everybody think about adoption, people and animals," she says. Complimentary of her colleagues, passionate about extending a helping hand, Bellamy Young could not be farther removed from her television alter-ego.
Which makes it all the more impressive that when the cameras are rolling, she's the last person you want to cross. Mellie Grant is a character you can't take your eyes off of, and you can chalk that up to the actress who plays her.
You can keep up with Bellamy on Twitter (@BellamyYoung). Scandal continues tonight at 10 PM ET/PT on ABC.
For more from Brittany Frederick, visit Digital Airwaves and follow me on Twitter (@tvbrittanyf).
(c)2012 Brittany Frederick/Digital Airwaves. Appears at Starpulse with permission. All rights reserved. No reproduction permitted.