Portia De Rossi Shares 'Arrested Development' Clip, Banana Stand Makes Viral Waves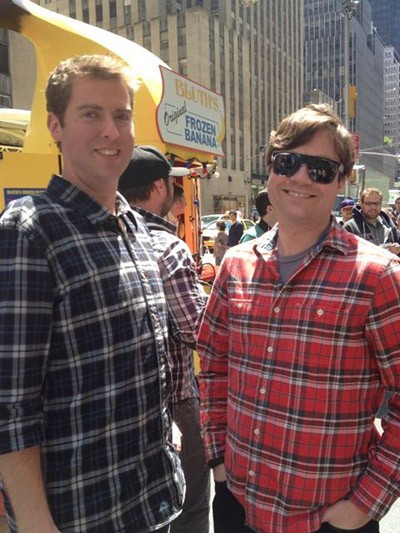 Portia de Rossi was on Late Night with Jimmy Fallon last night, where an Arrested Development clip was shared that finally revealed a guest star. Also, we take a look at the banana stands sprouting up across the world.
In the clip, Lindsay (de Rossi) and her husband Tobias (David Cross) try to get a deal from a real estate agent played by returning guest star Ed Helms. If you recall, Ed played the same character back in 2004, when Lindsay misinterpreted his sales tactics as romantic advances.
Nine years later, not much has changed. Lindsay once again mistakes his question about her having children as a come-on, and she and Tobias completely forget about their daughter, Maeby (Alia Shawkat). The Bluths are back May 26, when the complete fourth season is released all at once on Netflix.
Speaking of the Bluths, their Famous Banana Stand has been making waves online as Arrested Development fans lined up across entire blocks to get their photos taken in front of it. Above we have Starpulse Contributing Writer Alan Danzis (right) and his friend posing in front of the stand.
Jimmy Fallon revealed during last night's show that the line went all the way up 49th street, across from his studio. Other reports suggested a six hour wait to get an actual frozen banana with a Bluth wrapper (we wonder if anyone actually opened it) - and when supplies depleted, fans still happily waited just for a photo. The shots of fans in front of the iconic stand quickly hit Twitter and Facebook.
A similar banana stand was in London last week, where Brits welcomed the Bluth frozen treats with similar attention. Who knows where the stand will show up next?