Portia De Rossi Didn't Want To Be A Lesbian, Recalls Coming Out At Golden Globes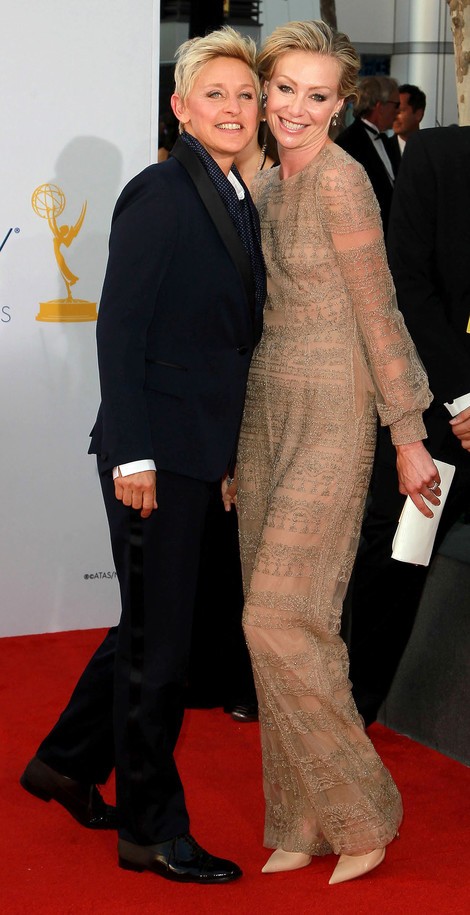 Portia De Rossi opened up about being gay and how uncomfortable it made her feel during an interview on "The Conversation With Amanda De Cadenet."
She explained: "I just didn't want to be a lesbian. I'd never met one for a start and I just thought they were strange and that they hated men and they were very serious and I had these ridiculous images in my head and there were no out celebrities or politicians or anybody that I could look to and go, 'Oh, I could be like that'. There was nobody that I could say, 'I could date her and I want to be like her.'"
Yesterday, she sat down with the cast of "Arrested Development" for "Inside the Actors Studio," and host James Lipton asked her share the first time she came out.
De Rossi recalled the 2005 Golden Globe awards when she and future wife Ellen DeGeneres first got together. According to Us Weekly, de Rossi recalled: "I think when I really, truly came out was the Golden Globes when Arrested Development was nominated. Ellen and I had been together for a month and I was very, very nervous going to that because I knew that I was going to meet up with her after the show . . . "

"And that there would be press," co-star Jason Bateman interjected.

"And that there was press," de Rossi agreed. "And that was the first time we stepped out together as a couple, but for me, it was the first time I stepped out as a gay woman, really."