Popular TLC Reality Series 'Toddlers & Tiaras' Causing Outrage With Costumes, Tantrums & Pushy Moms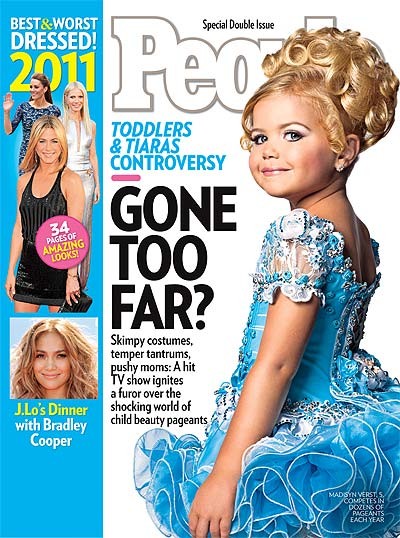 Child beauty queens are taking the pageant world by storm with pushy moms, temper tantrums, spray tans, fake teeth, and risqué costumes. This week's special double issue of PEOPLE examines the popular TLC reality TV series Toddlers and Tiaras, which has reignited controversy over a culture made notorious by the Jon Benet Ramsey tragedy. Critics of the child pageant industry warn that the stresses of competition, coupled with an extreme focus on physical appearance, can have a negative effect long before these girls will be eligible for Miss America.

The parents behind these pageants continue to go to extreme lengths to win. Their behavior, broadcast each week to more than 2 million viewers, is often outrageous (waxing screaming children's eyebrows; booking pre-pageant chiropractor visits), and, to some, alarming. In an August Tiaras episode, Lindsay Jackson outfitted daughter Madisyn Verst, then 4, with faux breasts and padding for her derrière to more convincingly portray the curvaceous Dolly Parton; a week later, Wendy Dickey dressed up her 3-year-old daughter Paisley in Julia Roberts' streetwalker costume from Pretty Woman, complete with cut-out dress and over-the-knee boots. (She won.)

Many critics of the show, which has long showcased the behind-the-scenes tantrums and controversial onstage moments, were outraged. "This is the most blatant example of sexualization of a child that I have seen," says Melissa Henson of the Parents Television Council, which is calling for the network to cancel the series. "There has to be a lesson here. This has gone too far." The network, for its part, denies any wrongdoing. "Some of the costumes the families come up with may be deemed inappropriate, but we're just observing and documenting. We're not costuming the kids," Amy Winter, TLC's executive vice president and general manager, says of Tiaras. "We're not passing judgment and we're not condoning anything."

Madisyn's mother, Lindsay Jackson, herself a former pageant queen from Nashville, says padding her daughter's costume was just a colorful way to give her a little edge. "I think it's cultural, the reactions," says Jackson, whose own mother helps foot the five-figure annual bill for Maddy's many pageants. "When she wore that [Dolly Parton costume] to a pageant in Kentucky, people loved it; in Connecticut, they didn't get it," she says. (Pageants in the south outnumber those in the rest of the country.) "Everyone acts like I am trying to sexualize my daughter, but it's ridiculous. If I put Maddy in a Jason costume for Halloween, would people think I was trying to turn her into a serial killer?"

"You are always going to have that one person who takes things too far," says Annette Hill of Universal Royalty, a Texas-based "glitz pageant" featured on the series. "This is sensationalized because it's a TV show. People want to see outrageous," she adds. "These are just costumes. The kids are fully clothed. What girl doesn't want to play with Mom and do dress-up?"

But child development experts point to a difference between playing dress-up and making a career of it. "Little girls are supposed to play with dolls, not be dolls," says Mark Sichel, a NY-based licensed clinical social worker, who calls the extreme grooming common at pageants "a form of child abuse." Playing dress-up "is normal and healthy, but when it's demanded, it leaves the child not knowing what they want," he says. Accentuating their appearance with such accoutrements as fake hair, teeth, spray tans and breast padding "causes the children tremendous confusion, wondering why they are not okay without those things."

Conversely, many pageant parents argue that there's no better confidence booster than winning a pageant. "My daughter is much more confident and outgoing than other kids her age," says Dickey, who first put Paisley in a pageant at 6 months. "She has a huge personality. That will be important later on."


*Also In This Week's 'PEOPLE'*

-J. Lo's Dinner With Bradley Cooper: "They're In Discussions For A Project"
-Exclusive Interview: Josh Powell Says He "Never Harmed" And Will "Always Love" His Wife
-Sarah Jessica Parker's Goal Is "To Eat A Reese's Cup Or A 3 Musketeers Bar Today"
-Angus T. Jones Welcomes Ashton Kutcher To Two And A Half Men


Get the new issue of PEOPLE Magazine, on newsstands now; and visit PEOPLE.com for more on the Toddlers & Tiaras story.

But wait, there's more!...

Special Double Issue

'PEOPLE' Names Best & Worst Dressed 2011

Kate Middleton, Blake Lively, Jennifer Lopez, Jessica Alba And Jennifer Hudson Among 10 Best Dressed Women Of The Year

PLUS: Chic at Every Age, Amazing Emmas, Budding Fashionistas, Best Dressed Couples, Where Did They Go Wrong? and More

PEOPLE magazine names the Best & Worst Dressed of 2011 in this week's special double issue featuring 34 pages of amazing looks. Whether they follow the rules or completely rewrite them, these stars prove that the most important must-have for a celebrity style setter is confidence. PEOPLE's 10 Best Dressed Women of 2011 are (in alphabetical order):

Jessica Alba – The Maternity Clotheshorse
Mila Kunis – The Glamour Girl
Jennifer Aniston – The Minimalist
Blake Lively – The Risk Taker
Kate Bosworth – The Jean Queen
Jennifer Lopez – The Rule Breaker
Ginnifer Goodwin – The Hipster
Kate Middleton – The Tastemaker
Jennifer Hudson – The Bombshell
Reese Witherspoon – The American Classic

Burning hot fashion plates Emma Stone, 22; Emma Roberts, 20; and Emma Watson, 21 are featured as the "Amazing Emmas," while PEOPLE.com readers voted Chloe Morëtz, 14, Best-Dressed Teen Star. Moretz tops the "Budding Fashionistas" list, which also includes Selena Gomez, 19; Miranda Cosgrove, 18; Dakota Fanning, 17; Victoria Justice, 18; Hailee Steinfeld, 14; and Elle Fanning, 13.

On the Red Carpet or just hanging out, PEOPLE says these Best Dressed Couples are designed for each other: Brad Pitt & Angelina Jolie; Camila Alves & Matthew McConaughey; Selena Gomez & Justin Bieber; Katy Perry & Russell Brand; Duchess Kate & Prince William; Halle Berry & Olivier Martinez; Gwen Stefani & Gavin Rossdale.

Best Hair honors go to nine beauties who put the "do" in hairdo: Kristen Bell (Best Pony); Ashley Greene (Best Waves); Ciara (Best Highlights); Kerry Washington (Best Bangs); Gwyneth Paltrow (Best Blowout); Minka Kelly (Best Braid); Jennifer Aniston (Best Bob); Gwen Stefani (Best Bouffant); Halle Berry (Best Pixie).

"Chic at Every Age" celebrates four decades of fabulousness – 20s, 30s, 40s, and 50s – from the young stars of Twilight to classic models.

PEOPLE also looks back at those fashion moments we'd like to forget. "Where Did They Go Wrong?" gives a detailed breakdown of celebrity fashion risks gone awry including Nicole "Snooki" Polizzi, David Arquette, Sharon Stone, Cynthia Nixon, Ke$ha, and Johnny Weir.