Poppy Montgomery Caught Up In Beverly Hills Hotel Fire Drama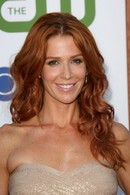 Actress Poppy Montgomery had a rude awakening on Monday morning when a fire alert at her Beverly Hills hotel left her standing in a freezing parking lot barely dressed with her three-year-old son.

The Aussie star was staying at the Montage when a hotel safety alert woke her up in the middle of the night.

Appearing on news show Access Hollywood Live hours later, she explained, "I had my three-and-a-half-year old in bed with me and at 2:30 this morning I sit bolt upright to this voice saying, 'Get out of the building, there's a fire in the building... Leave the building, do not take the elevators... This is not a drill.'

"I grabbed my son and I'm in not very cute pajamas - like a see-through T-shirt and shorts and no shoes - and it was freezing and I'm standing in the parking lot of the Montage... and no one else was there. Apparently, I'm the only one that panicked.

"The people come strolling down, dressed well, (with) purses, a little lip-gloss. I looked... well, it was all-out for everyone to see... I didn't even have my room key. I couldn't get back in.

"There was no fire by the way."