Poplopedia: Katy Perry Is A Teenage Dream At 'Live On Letterman'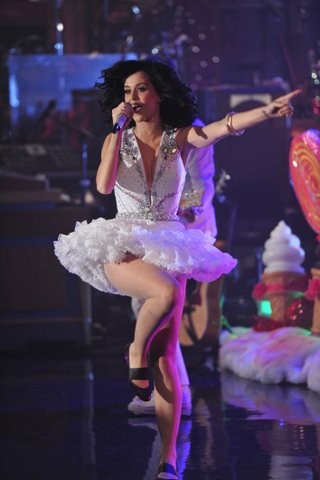 Neatly placed were ice cream cones, wrapped small candies, lollipops, peppermint, a sundae and cotton candy. Next to those mouthwatering goodies stood band members dressed in all-white "Ice Cream Man" uniforms paired with bow ties.
The background singers wore skin tight white mini dresses with colorful swirls and topped off their looks with candy pink afros. No, this wasn't a dream; it was the mouthwatering set of Katy Perry's "Live on Letterman" mini-concert. Of course, those treats were props but that didn't keep the audience from licking their lips at it.
As the eager Perry fans waited for an appetizing performance to go along with the equally yummy stage set up, Perry made her entrance running down the aisles sending the audience to their feet; they would stay standing for the remainder of the night.
Perry kicked off her live performance with "Hot n Cold" – a single off of her album One of the Boys. She could have placed the microphone down on the stage and left the singing to the audience that is how well they knew the lyrics. And even so, Katy's high-energy performance of "Hot n Cold" set the tone for the night and was a clear indication that we were going to have a very memorable evening in her sweet tooth paradise.
"It's like my birthday and Christmas rolled up into one. It's my release day!" Katy announced right after concluding her performance of "Hot N Cold." The audience again went wild. And just to keep the momentum going, Katy jumped right into her mega hit "I Kissed a Girl." She started the song out slowing it down with a mellow bluesy sound, and then revved it up to its original version.
Her personality and vocals shined just as much as her bedazzled microphone and outfit. Surely not an artist to go down the familiar route of lip-synching, being so active, Katy was 100% live no fillers. Her carefree, free-spirited attitude rubbed off well on the crowd.
Because she was having a blast, so were we.
Soon we were in Katy's Teenage Dream, her new album that is. Even though her second LP (under a major label) hit store shelves and online retailers that same day, the audience knew every last word down to the ad-libs of her song "Teenage Dream."
We took another brief tour back in time via her live performances of "Thinking of You" and "Waking up in Vegas." Katy revealed that "Thinking of You" was penned to help her get over a break-up, and for a second you wondered if the guy that let her go is kicking himself right this minute.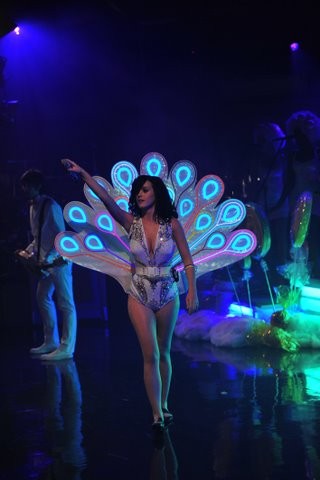 After a brief exit, Katy returned to the stage dressed in a silver and white bodysuit that sparkled.  Strapped to her waist, was a flashing silhouette shaped like peacock feathers. Instantly I knew what was coming up next having listened to her new album and knowing that Katy is a woman of themes.
There in the dark, Katy mesmerized the audience with her light show courtesy of her flashing peacock feathers while singing her song "Peacock."
Earlier in the evening Katy joked "I do love New York but sometimes I fear for my life when I sing certain songs." One of those songs couldn't possibly be her single "California Gurls", because the sound of her band playing the opening melody to the chart-topping track set the audience ablaze with excitement.
Only Katy Perry could get a New York crowd enthusiastic to sing in unison "California." And for just a few minutes right before the silver streamers were released and Katy made her exit, we were all Californians.
Katy Perry's new album Teenage Dream is available in stores now.
Follow me on Twitter @LoveSamanthaG.
Watch the full video of Katy's performance at CBS.com
Katy stopped to greet fans and sign autographs before her performance on Letterman. She looked gorgeous - check out some pics: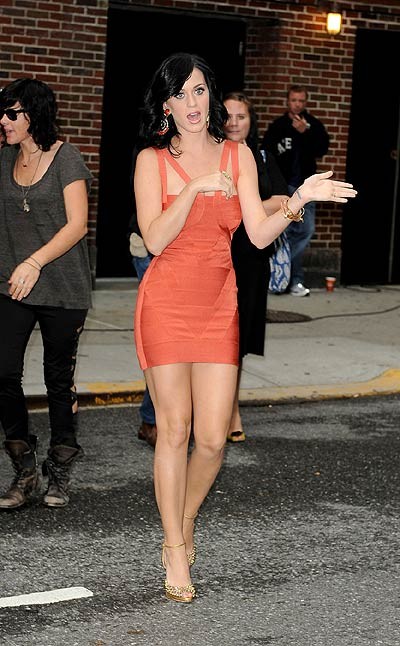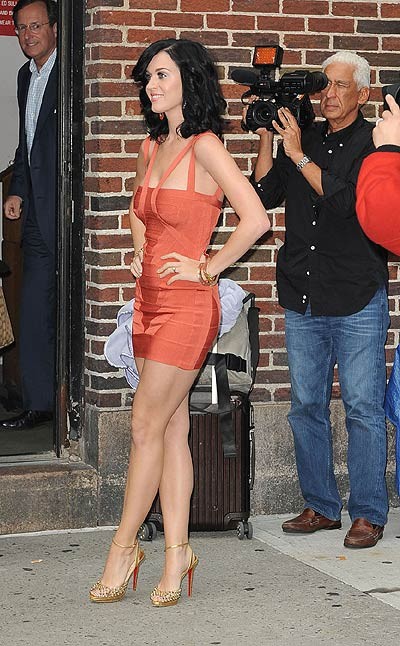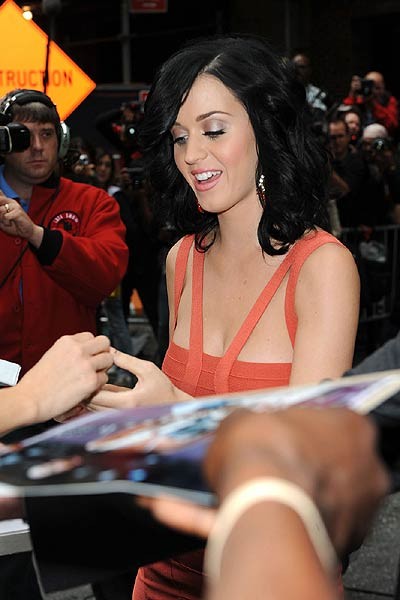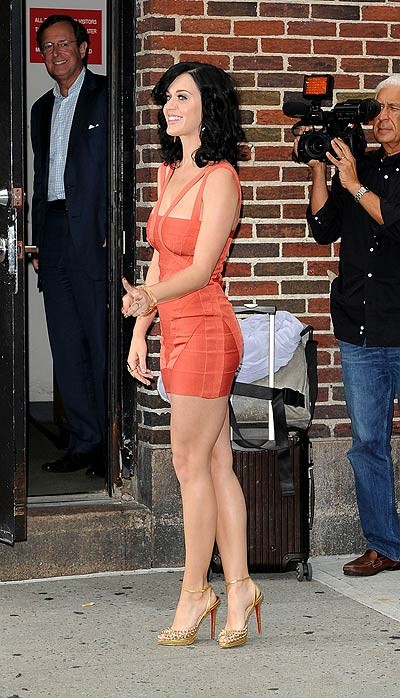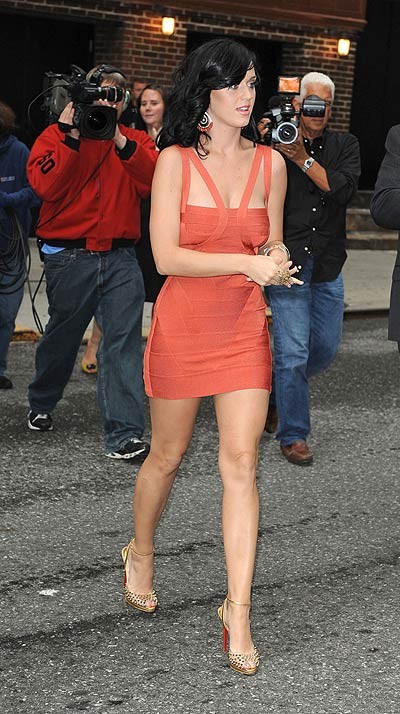 Click for more great Katy Perry pictures: