Poplopedia: Former 'Real World' Cast Member Brings The Drama To 'Basketball Wives 2'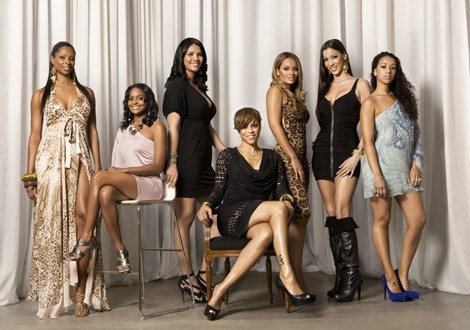 A former reality star from "The Real World" helps to bring the drama that reality fans have grown to love on the new season of "Basketball Wives 2."
Some of us have come to accept that the women, who appeared on the first season of "Basketball Wives," hardly count as actual wives of ballplayers. They were either ex-girlfriends/wives or baby mothers of players (with probably one "wife" actually being a wife), but fans of the show didn't really mind the contradiction in cast members because the entertaining feuds that this guilty pleasure programming offered sufficed.
The new season of "Basketball Wives" is proving to be packed with even more feuds and shocking moments and the culprit, judging from the trailer, seems to be "Real World" vet, Tami Roman.
Tami Roman appeared on the second season of "The Real World" which taped in Los Angeles, California and aired on MTV in 1993. Roman was 22 at the time and was known for the fiasco that found her housemate, David Edwards, controversially yanking covers off of her. Most memorably, she was the housemate that allowed "Real World" cameras to follow her to an abortion clinic to undergo a procedure.
It's 17-years later and a lot has changed with Tami, well maybe not a lot. After her stint with "Real World" culminated, Tami got married to Kenny Anderson (who played for the Boston Celtics, Los Angeles Clippers, and the Indiana Pacers to name a few) but that marriage ended in divorce.
This made her a perfect pick to join the cast of "Basketball Wives" after the now defunct cast member Gloria Govan bid the show farewell. Now with Roman on the cast the drama has reached a fever pitch as she and Evelyn Lozado come to blows in the new season.
VH1 posted the trailer for the new season of "Basketball Wives" and everything isn't as peachy as it once was with the ladies of the show. The good news is that we will be seeing more of the mind behind the show, Shaunie O'Neal (ex-wife of Shaquille O'Neal), who happens to also be good friends with Tami Roman.
BFFs Suzi and Evelyn are now enemies all thanks to Star Jones' ex-husband Al Reynolds, random much? And Evelyn has a new beau in fellow VH1 reality star/football player Chad "Ochocinco" Johnson. Twitter love at its finest.
It seems Jennifer is still flirting with the thought of divorcing her baller husband but she has other issues to worry about such as dodging Tami Roman's punches after the two get into a dispute over being familiar or unfamiliar in Jennifer's case with food stamps.
The meat of the trailer comes at the conclusion when Tami and Evelyn get into a heated argument that ends with claws being drawn for an old fashioned cat fight. Tacky, yes; but it has potential of being must see TV even to those who swear they won't watch but will.
View the three minute long trailer below and remember to tune in to VH1, Sunday December 12 at 9/8c to catch the new season of "Basketball Wives."
Follow Samantha Greaves on Twitter @LoveSamanthaG!