Poplopedia: 'Detroit 1-8-7' Recap 'Nobody's Home/Unknown Soldier'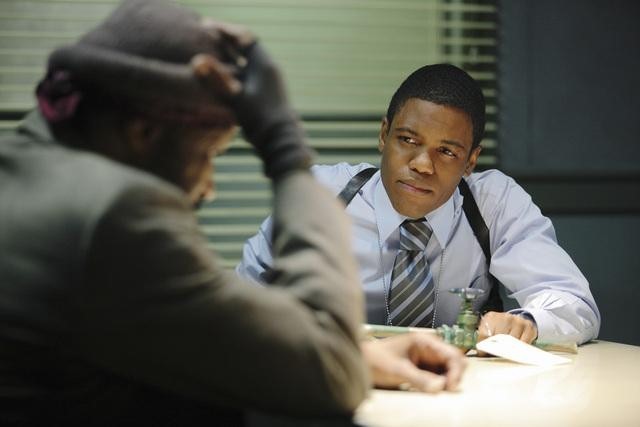 In the opening scene of "Detroit 1-8-7," Detective Washington returns to the precinct for the first time after being shot on his very first day. The other detectives of course welcome him in with opening arms and Detective Fitch is actually being a bit kinder to him.
The first crime scene of the night known as "Unknown Soldier," sees Detectives Sanchez and Stone finding an army veteran murdered. Another victim is found at the crime scene and is still breathing. He is later revealed to be the victim's father.
On the other side of town, Fitch and Washington arrive at their crime scene, "Nobody's Home," where a woman is found dead in a pool of blood in her home. Detectives Longford and Mahajan arrive at Fitch and Washington's crime scene to assist.
We learn that the victim, Sally Ellison, was well liked by those who wanted peace in their neighborhood and hated by those who were up to no good.
After arresting and questioning a homeless man that had a pipe that was stolen from Sally's home in his shopping cart, Washington learns that the house Sally was found dead in wasn't her house; she was a squatter. Sally had moved into the house and fixed it up so that it would be habitable. The other residents in the neighborhood didn't see anything wrong with it because that was better than it being vacant and abandoned.
Following the capture of a tagger that was caught leaving graffiti on a home, Longford and Mahajan discover that a realtor, Curtis Bregman, pays the tagger to spray paint certain properties that belong to him.
Of course, Curtis denies that he knows or pays the tagger in question.
At Sally's funeral, a reporter reveals to Fitch that Sally believed that someone was using the gangs and taggers in the neighborhood to force people out of their homes. It was considered a conspiracy by Sally, but the reporter still believed it.
Back at the precinct, Sanchez and Stone's first suspect claims that he bought the truck, which both the victim and his father went to purchase before they were attacked, for $500 and that he knew nothing of the vet's murder.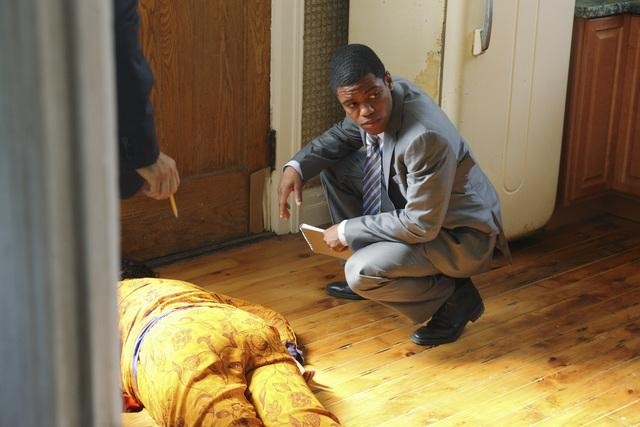 Fitch presents Lieutenant Mason with the idea that Sally's conspiracy theory might hold some truth. Mason does not buy it.
After finding a clue by way of a rare car that was photoed in the same ad found in their first suspect's truck, Sanchez and Stone visit a car dealership where they find the same rare car in the advertisement. One of the suspect's tries to flee the scene, but the detectives capture him after he crashes.
Meanwhile, Fitch and Washington chase down a suspect they believe tried to murder the reporter that has been helping them with Sally's case. After fighting with the suspect and running the risk of being shot again as shots are discharged from the suspect's gun, Washington nabs the suspect. Fitch seems proud.
In the interrogation room, Fitch tells the suspect, Landry, that ballistic reports confirmed that his gun is the same gun used to kill Sally. Landry refuses to say anything besides answering Fitch's questions with questions.
Fitch digs up a newspaper story about Landry's murdered sister. Her killer was never found.
The move proves to be a smart one, because Landry admits that he shot Sally. He also confessed that he was hired to murder her. Fitch tries to get Landry to admit that he was hired by Henry Malloy – an entrepreneur who owns a newspaper and who is responsible for building countless homes in Detroit – but Landry decline's to confirm Malloy's involvement.
Sanchez and Stone's plan to get their two suspects to confess to the vet's murder works when they bring in the surviving victim into the precinct. The two suspects thought that the vet's father was dead, but once they saw he was alive they agreed to confess to everything.
After Fitch confronts Malloy and informs him that he will continue to pursue Sally's case, Malloy claims that he knows why Fitch left New York for Detroit. Fitch tells Malloy that if he really knew what happened in New York, he would be worried.
This becomes the new mystery that we are all dying to know: what exactly happened in New York?
Follow Samantha Greaves on Twitter:
@LoveSamanthaG