Pope Francis Sanctifies Ali Landry's Baby Bump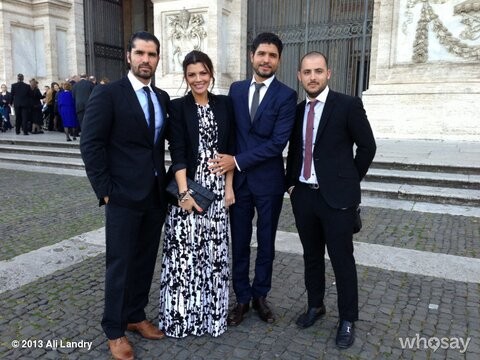 Former Miss USA Ali Landry received a special honor during her trip to Italy this month when Pope Francis gave her baby bump a hands-on blessing.

The Who's Your Daddy? Actress, who is expecting her third child with director husband Alejandro Monteverde, arrived in Rome on April 10th as a special guest of the Papal Foundation, an American organization which supports the Catholic Church.

Landry, who was raised as a Roman Catholic, toured Vatican City and dined with cardinals and bishops, but the real highlight came when she and Monteverde were invited to meet the new pontiff in private.

Pope Francis, who was elected to the position last month after Benedict XVI resigned, placed his hand on the star's stomach to give a rare blessing.

In a post on her Twitter.com page, Landry writes, "We had an opportunity to have a private audience with the Pope and meet him one on one! Words cannot describe..." and adds, "Words cannot describe the overwhelming sense of gratitude I have for this experience for my baby and for my family."