Pop Topper Of The Week: Karmin - 'Acapella'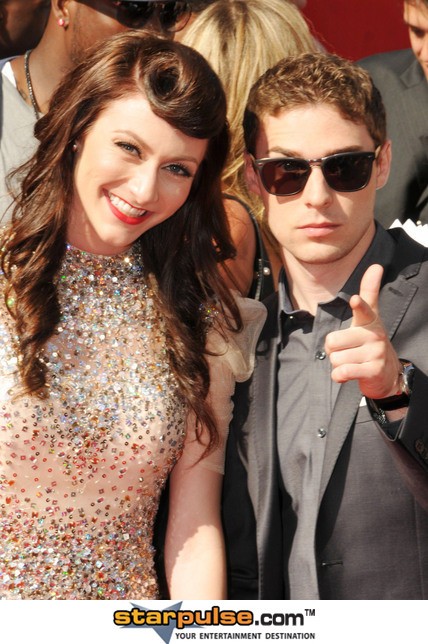 From the pop duo that brought you "Look At Me Now's" best cover, the soon-to-be married couple is in preparation to release their debut album out this September.  The lead single off Karmin's new album is not only perfect for the two of them, but it is music to my ears – yes, literally. The single, Acapella, is this week's Pop Topper of the Week.
To start off, Karmin (yes, with their logo that resembles an appliance brand) brings the world a new type of song for the radio. Main singer, Amy Heidemann, said the song was inspired by the success of Pitch Perfect, the movie that won hearts all over with its acapella versions of popular songs. Take a listen to Acapella before we go any further.
We good? Alright! The song kicks off with vocal bass (bass that is made with a voice) before Amy chimes in with the first line. They don't have to rent construction equipment to get these sounds! If this song is going to be big, it's this bass that will popularize it!
Something that I personally love about this song is the story that goes behind it. The female character has been in love, but throughout the song she realizes that she doesn't need a man to make her happy! She can be happy on her own. AKA, acapella!  "I want a bean with a bean stalk, and if the magic ain't right, time to walk!" she says as the realization comes to her.
Karmin signs the song with their signature rap style that has been seen on their "Look At Me Now" and "Super Bass" covers. "Once upon a time / I met the perfect guy / He had that Colgate smile / He had that suit and tie," Amy says to start off the rap section.
What keeps this song going is the driving music in the background. The bass is super prominent throughout the whole song, and it really makes me body roll when I'm in a place where no one can see me. *Cue body roll*
And then there's the music video. Filled with 90's inspired color scenes, the duo is found dancing and gyrating all over the place – viewer discretion advised.  Take a peak for yourself.
Karmin's best single thus far was "Brokenhearted" last year. It peaked at #16 on the Billboard Charts! Will the radio pick this up and will it outdo their last single?