Pop Topper Of The Week: Icona Pop - 'I Love It' (feat. Charli XCX)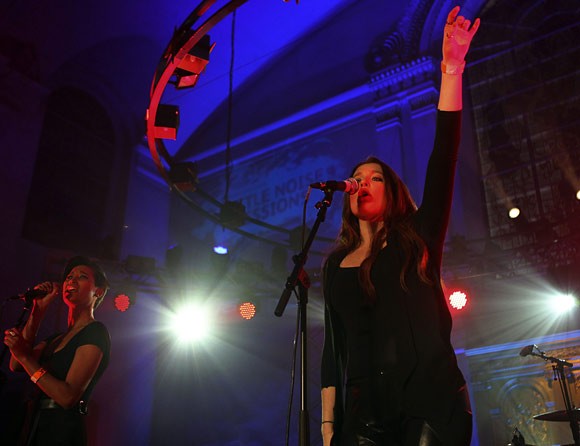 After nearly a full year since its initial release, America has finally fallen in love with "I Love It" by Icona Pop, featuring Charli XCX. Originally released May 9, 2012, "I Love It" by Icona Pop featuring Charli XCX is the Pop Topper of the Week!
The song starts out with a synthy explosion of sound that catches your attention and with your head already bopping, you begin to listen to the lyrics. Crash your car into a bridge? Huh? I mean – I don't care! I LOVE IT!
Now that you're hooked, throw an ex-boyfriend into the mix and this song isn't leaving your head anytime soon. "You're on a different road, I'm in the Milky Way. You want me down on earth, but I am up in space. You're so damn hard to please, we gotta kill this switch. You're from the 70's, but I'm a 90's b*tch," are the lyrics that will get you over that ex-boyfriend with a sequence of shouting and loving it and more shouting.
The perfect mix of music and lyrics make this song completely irresistible. The beat gets stuck in your head, and THOSE lyrics! Well first of all, there aren't that many to remember, so you learn the song fast. And secondly, if you do forget the words, just start howling "I love it!" because we all know you do. Parents will be forever grateful that their kids are screaming, "I love it! I don't care!" instead of the usual cuss words they absorb from the likes of Nicki Minaj and Kanye West.
So why the delayed popularity? Sure, this song came in at number 35 on Rolling Stone's 50 Best Songs of 2012 and almost made the Top 100 Tracks on Pitchfork's yearly rating, but never really was a top seller on iTunes until just recently (at the time this article was written, "I Love It" sits at #4 on iTunes.)
The Swedish pop duo got the royal TV treatment, aiding in the rise of the popularity of the song. Starting out with being featured in the end credits of Snooki and JWoww's newest adventure (cleverly named… "Snooki & JWoww"), the song was then included in the show that brought it the most light – the HBO's smash show "Girls!" The scene in which it was featured made you not only want to go and buy the song from iTunes, but also get up and shake that tail feather.
With the summer season coming up, I'm sure that this song will get even more play time for those of you who are roll-down-the-windows-and-sing drivers (no no, never me, of course not). The radios will give it the "Call Me, Maybe" treatment and we'll all be wanting more from Icona Pop, just to discover that nothing can compare to the love we feel for "I Love It."
Stay tuned for next week's pop topper!