Pop Topper of the Week: Demi Lovato - 'Really Don't Care' (feat. Cher Lloyd)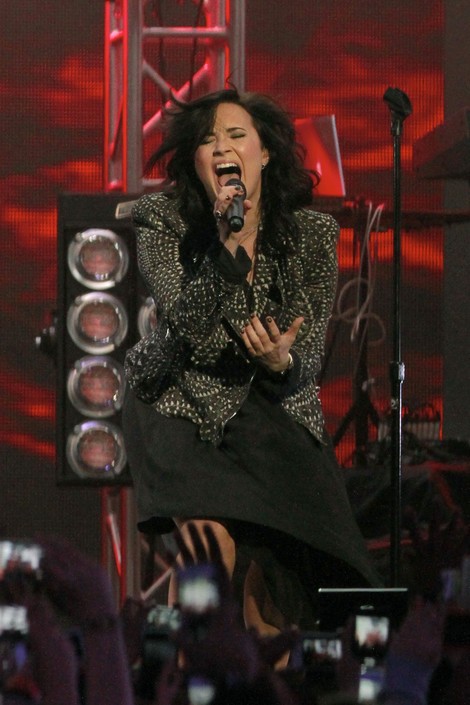 With the wide success from her third album, Unbroken, Demi Lovato is back and better than ever with her newest album self titled Demi. Her hit single "Heart Attack" has peaked at #10 on the Billboard Hot 100 and is the opener to Demi, but I personally don't think it's the best song on the album. The album is full of Lovato's signature ballads as well as a handful of golden dance tracks, with a song named "Really Don't Care" being one of the best. That is why the Pop Topper of the Week is "Really Don't Care" (feat. Cher Lloyd) by Demi Lovato.
Lovato herself originally leaked the CD on YouTube last week, and "Really Don't Care" became the most viewed of the leaked tracks (with over 1 million views in less than a week). This initial support of the song was then followed up when Demi was released on Tuesday, May 14, 2013 and "Really Don't Care" became the biggest seller from the album. After nine hours of being on iTunes (at the time of this writing), the song has already reached #22 (and climbing) on the Pop Charts.
Lovato's personal life went into the spotlight even more during 2010 and 2011, when her months in rehab were highly publicized.  After the fact, she became a whole new artist for many different reasons. Having been through an emotional time, her song writing took a new approach, and in our opinion, it worked out for the better!
"Really Don't Care" is a song about a boy who had a chance with Lovato, but man, did he blow it! "Even if the stars and moon collide, I never want you back into my life," Lovato sings with a rocking beat behind her! The song opens up with "You wanna play, you wanna stay, you wanna have it all. You started messing with my head until I hit a wall. Maybe I should've known that you would walk out the door." Sounds like this guy was one of those boys who just takes and takes and never gives anything back. Lovato had enough, wrote this song, and know he sure knows that she really does not care!
Cher Lloyd is the featured artist on this track. Lovato commented on the fact that in her last album, Unbroken, she had too many collaborations. It became everyone else's album, and not hers. This album is different, with Lloyd being the only feature on Demi.
My favorite part of the song? "I can't believe I ever stayed up writing songs about you! You don't deserve to know the way I used to feel about you. Oh no, not anymore! You had your shot but you let go." Can you say #GirlPower? The angst that Demi uses when singing these lyrics shows that she means business.
Could this song be about her break up with Joe Jonas, the back and forth relationship with Wilmer Valderrama or is there someone else that Demi really doesn't care about anymore? Check out the song on YouTube and get Demi, out this week!