Pop Topper of the Week: Cher - 'Woman's World'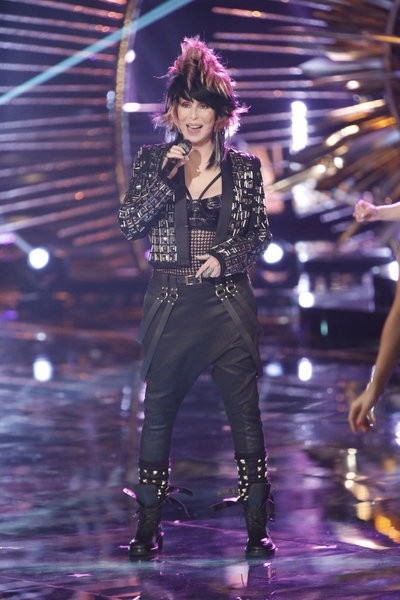 As a young girl dancing for money in the clubs of Hollywood, she was able to introduce herself to managers and agents, creating a network that would eventually lead to her successful career. Fast-forward 50 years, and she is still making music and completely dominating the entertainment industry (well, sorta). She is none other than Cher, a woman who has produced nearly 25 albums throughout her loooong career!
And she's back! But back is really an ambiguous word, seeing as she never left. On Tuesday, Cher released her latest single, named "Woman's World." Chart wise it is doing a fine job, ranking at #48 on iTunes! "Woman's World" is officially Pop Topper of the Week!
Cher performed her new single the day it came out on the season finale of NBC's The Voice. The crowned winner of the show was Danielle Bradbery, but let's not pretend that we're going to remember that name in a year. What we will remember is Cher's performance, of course!
Let's start with the set up. Strobe lights in a plethora of colors and a lonely Cher start out on stage. Plumes of smoke that I'm pretty sure aren't coming from an audience puffing ecigs. As the music starts, the crowd screams and yells, hips immediately start shaking with this new club banger, and Cher begins wailing over the track. And that hair! There are still questions on whether it was one wig or two, but in the end it's just banging!
As for her fashion (hair excluded), the jacket reeked of sparkles. I love sparkles though, and I'm sure you do too, so that's no problem. The pants looked a little bit like she was going through Justin Bieber's closet, but she really pulls them off much better than that impertinent hellion.
Cher, being in the music industry for longer than the majority of the population of America has been alive, is a seasoned professional. She seems to be able to reinvent herself whenever the need comes around. This time is no different. "Woman's World" has one of the catchiest beats out there right now (sorry-not-sorry Daft Punk), no scams about it. The track was co-penned and co-produced by British DJ Paul Oakenfold.
With the release of this song, the title of "Year of the Diva" is gleefully given to 2013. Cher's album will be released this September with other divas like Mariah Carey, Beyoncé, Lady Gaga, Miley Cyrus and maybe even Britney Spears releasing new albums this year.
So what do you think of the song? I know I'm excited for the music video to be released! Get it, Cher!