Pop Topper Of The Week: 98 Degrees - 'Microphone'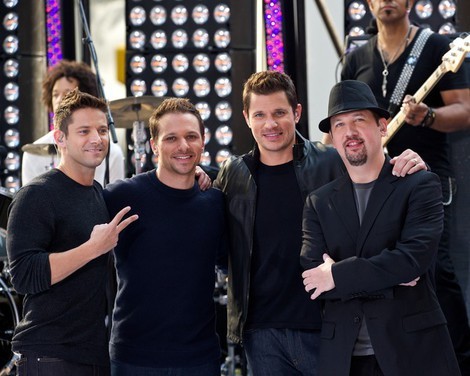 What do Justin Timberlake, Destiny's Child, and Mariah Carey have in common? They all are artists who took a longer-than-expected hiatus from the music industry to pursue other careers (or raise children). From these long breaks, these musicians have been able to pop back into the music scene and are doing surprisingly well.
So it seems like legendary pop acts are in, right? But of course! As pop fanatics, we never miss an old icon coming back into the scene (I mean, look at Madonna), and that is why we've named "Microphone" by 98° as the Pop Topper of the Week!
In the time that has passed since their last album (exactly 11 years to the date!), 98° has been working on raising families or pursuing solo records (*ahem* Nick Lachey, anyone?). It seems like the boy band (or should we upgrade them to man band?) still has that "it" factor that made them so popular back in the day. This song has the potential to be huge!
With a feel that pops you right back into the early 2000s, this record will get your foot tapping, head bobbing, and hip swinging, and that's just at work. Take this song out for an evening at the dance club and you'll be shaking everything you have until the night is over.
Sure, these men are fathers and all above the age of 35, but don't think about that for a second. Actually, maybe this is something we should examine further. Eleven years ago these men were in their early 20s making music that made people swoon over their beats and the smooth sound of their voices. Now they are a tad older and doing things like this. Some call it tasteful, but the word that I might use is creepy.
With a lyric breakout in order, let's get started. "When I'm done with you, you'll be able to carry a tune." What exactly are these guys doing? Music lessons? Oh wait, listen a little longer. "Put this in your hands, and hold it up to your lips." Okay, we get it now. A microphone that is not really a microphone! For the sake of discretion, I will stop the metaphor there.
This isn't the first time a metaphor like this has been used in music, of course. There's Katy Perry's "Peacock," Rihanna's "Cake" and Britney Spears's "Gasoline." But there might be something a little bizarre about the fact that these men verging on the age of 40 are singing these lyrics to an overwhelmingly younger audience. If you watch the lyric video there is a chance that your veins will curdle, but who knows! Maybe some of you will like it. I prefer to try and appreciate the music while ignoring the corny lyrics as much as possible.
When it comes down to it, however, the song is amazing. 98° has definitely made a beat worthy for clubs, the radio, and getting ready in the morning with pizzazz. Take a listen to it and let us know what you think of this song. Their new album 2.0 came out May 7, and is sure to please old fans and new fans alike.