'Pompeii' Stars Kit Harrington And Adewale Akinnuoye-Agbaje Hit Philadelphia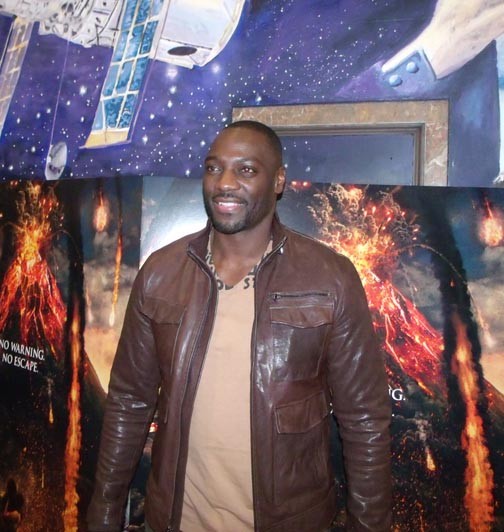 Last Monday, I attended the screening and red carpet interviews of 'Pompeii' stars Kit Harington ('Game of Thrones') and Adewale Akinnuoye-Agbaje ('Thor 2', 'Oz') at Philadelphia's Franklin Institute. 'Pompeii,' directed by Paul W. S. Anderson ('Resident Evil'), stars Carrie-Anne Moss ('Matrix'), Kiefer Sutherland ('24') and Emily Browning ('Lemony Sknickett'). The primary plot surrounds two Gladiators who duel it out for freedom, love and friendship while toiling beneath the shadows of a tremulous Mt. Vesuvius.
I feel Adewale's return to the area is kismet. I was supposed to interview him in November 2013 for a 'Thor 2' promo while he shot 'Annie' in New York. Unfortunately, a scheduling conflict appeared. While I didn't get the equivalent of a full 15 minute phone interview on the red carpet, I managed to ask why he chose to star in such a fatalistic film. I always viewed Pompeii, the historical event, as alluringly melancholy. Similar to Hurricane Katrina, it illustrates the power of nature ripping fragile humans away from their daily lives into the unexpected and the horrific. I wondered what attracted an actor to such a film where you already know the ending. In response, Adewale detailed his love of the Atticus role. Although Adewale's talents remain in steady Hollywood demand, the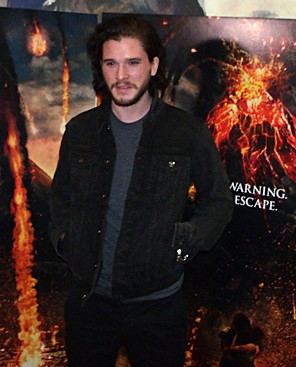 Atticus character, a strong African, tugged at him as a Black man. He detailed  the dearth of complicated yet challenging roles for minorities, which I've discussed with other Hollywood stars, including Dichen Lachman ('Being Human'), Reggie Lee ('Grimm') and Jaime Murray ('Defiance').  Considering Adewale's continuing success in major TV and film blockbusters including Thor 2,' 'G.I. Joe' and 'Lost,' I felt gratified that he easily discussed the issue.
Although I didn't interview Kit directly, he seemed incredibly self-effacing, open and humble when talking with the journalists around me while detailing his love of fantasy-oriented shows. In the Q & A preceding the screening, Kit's wry British humour shone through. When asked to describe his character, Milo, a Celtic warrior, he quipped, "Basically, he's a gladiator that gets stuck in a big eruption." To make his 6-pack abs into 12-packs, he joked "They just starve you, really" and admitted that between takes he and Adewale pumped iron in the nearby gym. He also detailed a mini-off camera rivalry he enjoyed with his on-screen love interest, Emily, through his ongoing attempts to mock or take "the piss out of" her home country, Australia.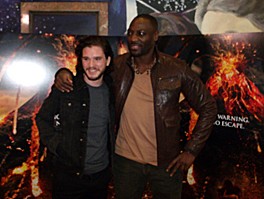 One thing I didn't hear Adwale mention on the red carpet, that he dropped in the screening Q & A, surrounded his dedication to his craft and his attempt to stay in character as long as possible: "I never trained to be an actor. I came through the backdoor."
Kit and Adewale are two incredibly attractive British men. They belong to the growing British domination featuring British headliners in American blockbusters. For the screening, they dressed casually in jackets, t-shirts and jeans. Although Kit's 20-something Byronic looks don't do it for me and the mother in me just wanted to comb his hair, I can see why young women will swoon when 'Pompeii' hits theatres. Adewale, for all of his serious dramatic roles, is an incredible charmer. I enjoyed watching him easily flirt with some of the young women on the interview line. Mental note: Ask God to grant me the face AND body of Halle Berry next time I interview him. While the red carpet felt more casual than others, I still enjoyed listening to and swooning over their lilting British accents. Watching the film re-kindled my fascination with the event and inflamed my desire to see the exhibit.
'Pompeii' will hit theatres on February 21st. If you're on the East Coast, check out the Franklin Institute Pompeii exhibit, open until April 27th.
For a sneak preview of 'Pompeii,' click here or watch below.