Political Irish Rockers Black 47 Campaign For Iraq In 2008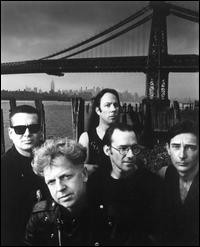 Steadfast in its opposition to the war since before the invasion,
Black 47
presents a dry-eyed view of life in combat on IRAQ its debut for new model indie, United For Opportunity (due March 4).
The band hits the campaign trail in February performing across the U.S. and culminating with a St. Patrick's Day release party on their home turf, New York City, at B.B. King's.
Recorded at Coney Island's Cyclone Sound in July 2007, IRAQ includes a batch of new songs along with several composed by Larry Kirwan over the course of the war. Inspiration for the characters and stories are very personal, many coming from the point-of-view of fans that served in Iraq and shared their experiences with the band.
Black 47 rarely plays to the converted and their shows have often seethed over the last five years. "Because of our background, we've always had as strong a fan base of right wing cops, firemen and conservatives, as of left wing students, radicals, and the working disaffected; neither side has been afraid to vent its views," Kirwan dryly notes. "We also take pride in keeping in touch with our fans, many of whom traditionally join the Service as a way to fund their college education or mortgage. Add to that the many who enlisted in response to 9/11, and it's easy to see why we have had no shortage of information from those actually doing the fighting in Iraq."
"Stars and Stripes" tells the story of two young men waiting for a chopper to rescue them from an ambush in Anbar Province, while "Downtown Baghdad Blues" has another serviceman wondering, "what the hell am I doing here in the first place?" "Sadr City," is black-humored blues with the hero fearful that Moqtada Al Sadr's Mahdi Army has his number; and on "Ramadi," a young man, despite his desperate situation, can't rid his mind that his girlfriend may be "cruisin' down Main Street hangin' with your old squeeze."
The band employs an ever-broadening mélange of New York styles: rock, reggae, hip-hop, folk, Irish traditional, downtown noise and Jazz and have adopted a somewhat harder sound to reflect the nature of the war.
With a pedigree for controversy, Black 47 first raised its voice in protest to the political and economic systems in the North of Ireland in 1989. Led by Larry Kirwan (guitar/vocals), Black 47 is recognized as the premier Irish-American rock group who paved the way for the current Irish punk/roots explosion led by such bands as
Flogging Molly
and
The Dropkick Murphys
.
Black 47 begin the first leg of their U.S. tour February 1 through St. Patrick's Day:
February 1 Sellersville, PA Sellersville Theater 1894
February 2 New York, NY Connolly's
February 8 Asbury Park, NJ The Stone Pony
February 9 New York, NY Connolly's
February 15 Lincoln, RI Twin Rivers Casino
February 16 New York, NY Connolly's
February 22 Albany, NY Albany Irish Center
February 23 New York, NY Connolly's
February 29 Hartford, CT Half Door
March 1 Cambridge, MA Tommy Doyle's
March 6 Santa Cruz, CA Veterans Memorial Building
March 7 San Francisco, CA Red Devil Lounge
March 8 Sonora, CA Sonora Celtic Faire
March 9 Sonora, CA Sonora Celtic Faire
March 12 Columbus, OH Byrne's Pub
March 13 Palatine, IL Durty Nellie's
March 14 Cleveland, OH Beachland Ballroom
March 15 Pittsburgh, PA Thunderbird Café
March 16 Philadelphia, PA World Café Live
March 17 New York, NY B.B. King's Blues Club
Additional tour dates to be announced.