Police: Justin Bieber Not To Blame For Alleged Hit-And-Run Involving Photographer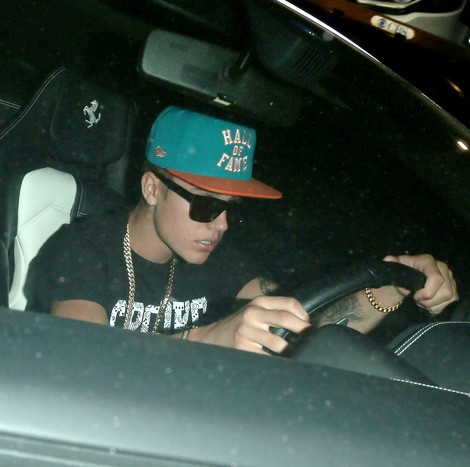 Justin Bieber is the latest celeb to reportedly hit a photographer with his car. Shortly before midnight on Monday night Bieber left the Laugh Factory club in his Ferrari when the incident occurred.
According to eyewitnesses, photographers swarmed the singer as he was driving away, and he pinned one of them to another vehicle. Police were called to the scene, but when they arrived Bieber had already left.
The injured photographer reportedly hurt his leg and was taken to the hospital. According to TMZ.com, the blame lies on the photographer for "being a pedestrian on a roadway" and it's not a hit-and-run case.
It isn't the first time Bieber's presence has caused traffic problems. Last September, two photographers were involved in a car crash as they scrambled to take his photo in Los Angeles. They lost control of their cars and smashed into one another.
In a separate incident, a photographer was killed on New Year's Day after he spotted the singer's Ferrari after it was pulled over by police. The driver, believed to be a friend of Bieber's, was questioned by cops and the paparazzo got out of his vehicle to take pictures of the incident, but he was knocked over and killed by another car.
Last year, a man claimed Lindsay Lohan hit him with with her Porsche after she left a club in Los Angeles. Authorities eventually dropped their investigation because neither party cooperated with police and there was little evidence a crime had occurred.