Police Investigate Mysterious Package At 'Dancing' Studio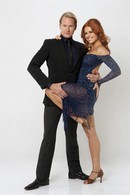 Police were called to the studio home of hit reality TV show Dancing With The Stars on Wednesday after a white powder was discovered in a package.

The substance was examined by the Los Angeles Police Department's (LAPD) hazardous materials personnel, who declared it was harmless.

Officer Diana Figueroa, spokesperson for the LAPD, tells The Huffington Post, "There was no threat associated with that incident."

It is the second time in as many months that a letter containing an unknown powder was sent to the CBS studios in Los Angeles - cornmeal was found in a threatening letter sent to chat show host Craig Ferguson.