Police Confirm Ryan Dunn Was Drunk At Time Of Crash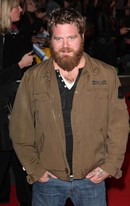 Jackass star Ryan Dunn was extremely intoxicated at the time of his fatal crash, according to a new police report.

Dunn and a pal were killed in the early hours of Monday morning when the daredevil's Porsche spun out of control, crashed into trees in West Goshen Township, Pennsylvania and burst into flames.

A photo reportedly posted online hours before the tragedy showed Dunn and two friends sipping drinks in a bar, sparking speculation alcohol may have been a factor in the accident.

Police Chief Michael Carroll has confirmed Dunn was in fact drunk at the time of the incident - the star's blood alcohol level was reportedly over two times the legal driving limit.

Carroll tells the Daily Local News, "No other substances were found in his blood other than the alcohol."

The report also suggests Dunn may have been driving as fast as 140mph before losing control of his sportscar.

Dunn's passenger, a Jackass production assistant, has since been identified as Zachary Hartwell.

Full toxicology reports on both men are expected next month.