Police Called To 'The Hobbit' Casting Call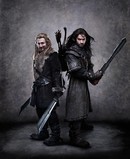 An open audition for Peter Jackson's new The Hobbit movie had to be shut down on Saturday after more than 3,000 hopefuls turned up.

The director is currently in New Zealand filming the two-part Lord of the Rings prequel, which stars Martin Freeman, and a casting call for a part in the film attracted thousands of applicants over the weekend.

Producers expected around 1,000 wannabes to turn out for the auditions in Lower Hutt, near the capital city of Wellington, but they were overrun when more than 3,000 arrived.

Police were called to help control the crowds and the auditions were shut down early due to safety concerns.

Local police Senior Sergeant Steve Braybrook tells the NZ Newswire, ''There was enough concern that police attended... (the organizers decided to) call it quits."