Police Called For Domestic Violence Report At Lane Garrison's Home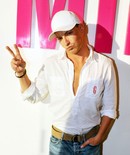 Police officers were called to actor Lane Garrison's California home on Monday night to investigate allegations of a domestic dispute.

The Prison Break star is said to have been at home in Beverly Hills with his girlfriend when cops received a call reporting an alleged bust-up at the property.

Officers attended the scene and spoke to the star, before writing up an incident report.
No arrests were made and Garrison was subsequently taken to the hospital by ambulance to treat a "medical issue" unrelated to the alleged dispute, according to TMZ.com.